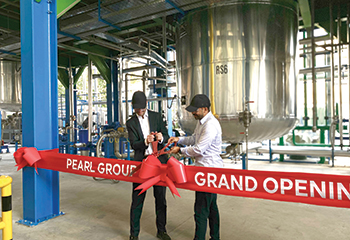 Pearl Group's plant upgrade will support manufacturers locally and globally
After an extensive plant upgrade at one of the largest polyester plants in Dubai, Pearl Group is planning to leverage Dubai's advantageous geographic location and competitive shipping costs by ramping up polyester polyol manufacturing. Over 80 per cent of the increased production has been earmarked for export to markets as far afield as Europe, Africa and Southeast Asia.
Pearl Group's highly automated production plant safeguards consistency and reliability of polyester batches by ensuring all required specifications are constantly in accordance with customer requirements, with online process monitoring completed using Scada and PLC automated reaction equipment.
Polyester polyols are produced using esterification chemistry utilised for a range of polyurethane formulation applications used to make energy saving foams and binders. End products range from building insulation products to shoe soles and adhesives. Pearl Group's plant upgrade will support these manufacturers and their production processes – both in the UAE, around the region and globally - by using Dubai's central location, excellent shipping connections to other regions, and affordable energy costs.
Pearl Group CEO, Martin Kruzcinna, commented: "Our corporate strategy is closely aligned with the UAE Government's 2031 national plan and it overarching goals to boost the Dubai manufacturing sector and increase exports. With increasing geopolitical uncertainty, our mission has been to provide manufacturers and polyester users, both in the UAE and internationally, with greater supply chain resilience and to reduce prolonged delivery waiting times.
"Locally produced polyester resin from our newly recommissioned plant expansion is a game changer, meaning more manufacturers can source the polyester they need with greater confidence, enabling them to forecast production targets further into the future.
"Our plant upgrade and doubling polyester output not only benefits local manufacturers by eliminating international shipping costs, but also positions Dubai as an international polyester export hub opening new international markets as far afield as Europe, South-East Asia, and Africa. Pearl Group is proud to be continually supporting the UAE," concluded Kruczinna.