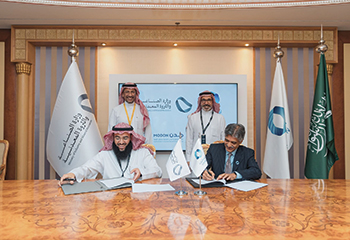 Officials signing the MoU
Saudi Authority for Industrial Cities and Technology Zones (Modon) has signed a MoU with Oxagon, the advanced manufacturing and innovation destination within kingdom's futuristic city Neom, to boost co-operation in the implementation of the Future Factories Programme.
The programme is aimed at building a strong technology ecosystem enabling a sustainable digital transformation of the manufacturing sector in the kingdom and remodeling 4,000 existing factories in order to enhance the country's competitiveness on a global scale. A key aspect of the MoU is the development of legislation, incentives and enablers that will support the Future Factories Program to remove barriers to industrial innovation in the kingdom.
Under this deal, experts from all parties will assess the industry's readiness and explore ways to integrate advanced technologies, such as artificial intelligence, 3D printing and IoT into manufacturing industries at Oxagon, home to advanced and clean industries within Neom.
The MoU, which was signed under the guidance of Bandar bin Ibrahim AlKhrayef, the Saudi Minister for Industry and Mineral Resources, lays the groundwork for implementing the Future of Factories Program by strategically unifying the efforts of the private and public sectors, said a senior ministry official.
"Through this programme, we aim to enhance the competitiveness of local industries and create job opportunities in key areas for the Saudi youth in line with the goals of Saudi Vision 2030," remarked Osama bin Abdulaziz Al Zamil, Deputy Minister of Industry and Mineral Resources.
Initially announced in July 2022, the Future Factories Programme aims to analyze factories' operational readiness by assessing their Smart Industry Readiness Index (SIRI).
Over 4,000 factories will be transformed into advanced and higher-quality industries through automation and enhanced efficiency, raising the global competitiveness of the sector.
CEO Nadhmi Al Nasr said: "Neom's objectives are in line with the Kingdom's Vision 2030 goals. This memorandum represents a major milestone in realising the signatories' shared ambitions to sustainably future-proof industries and drive economic diversification across the country."