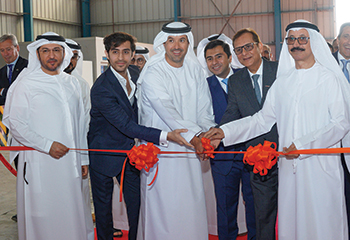 Officials inaugurating the Conares plant in Jafza
Conares, the second largest private steel manufacturer in the UAE, has announced the official inauguration of its colour-coated steel plant in Jebel Ali Free Zone (Jafza), Dubai.
The state-of-the-art facility has been developed at an investment of AED150 million ($40.85 million) within the Conares premises in Jafza South.
The plant was inaugurated by Helal Saeed Al Marri, Director General of Dubai Department of Economy and Tourism, in the presence of Sultan Ahmed Bin Sulayem, Group Chairman and CEO of DP World, Abdulla Bin Damithan, CEO and Managing Director of DP World UAE and Jafza, Bharat Bhatia, Chairman and CEO of Conares, as well as other dignitaries and senior executives of Conares.
Conares is the only private steel manufacturer in the UAE with four distinct product verticals. Exporting products to 26 countries across six continents, the company's assets are currently estimated to be valued at AED2.5 billion, said a statement.
Bin Sulayem said: "The construction sector has contributed significantly to the UAE's development and progress – from world-class infrastructure to the iconic buildings we house. Conares is one of the entities driving the success of this industry. This new facility will add further value to the sector's offerings to the local, regional, and international markets. We are proud to support such organisations through our advanced facilities, and unmatched multimodal connectivity."
Bhatia said: "We are proud to launch our colour-coated line, the most advanced facility of its kind in the region's steel manufacturing sector. With the launch of this new plant, we expect the revenue to increase by 10 to 15 per cent gradually, in comparison to that of the previous year. We are also aiming to increase our dispatch by 5 to 7 per cent this year."
"We strongly believe in the vision of the leadership of this nation. With support from federal and local government agencies, our products have gained market wide acceptance and are the preferred choice for many prestigious projects today," Bhatia added.
he colour-coated steel plant, with a capacity to produce 100,000 metric tonnes (MT) of colour-coated galvanized steel coils, strips, and sheets per annum, will cater to the increasing demand in the UAE and the region, in addition to manufacturing products to export to a number of international markets.
Conares brings to the market a diversified product range including rebars, pipe, and colour-coated coils. Its growth and presence in the international markets has been remarkable and has continued to evolve with demand in the region.
Conares has a vision to increase their manufacturing capacity to up to three million tonnes by the year 2030.