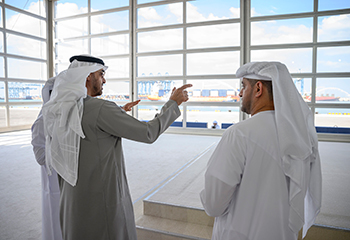 HH Sheikh Mohamed bin Zayed Al Nahyan being briefed about the project
His Highness Sheikh Mohamed bin Zayed Al Nahyan, President of the UAE, has inaugurated Khalifa Port's expansion - a major development project with a total investment of AED4 billion ($1.089 billion) in Abu Dhabi.
His Highness was briefed by Falah Mohammed Al Ahbabi, Chairman of AD Ports Group, and Capt Mohamed Juma Al Shamisi, Managing Director and Group CEO of AD Ports Group, on the milestones of Khalifa Port expansion projects since its opening 10 years ago, and reviewed future plans for the leading port in the region.
The President also toured the new, expanded facilities and logistics available to serve import and export operations.
His Highness said: "Khalifa Port expansion is a major national project that is considered an important addition to the UAE's ports and logistic services and will further enhance the UAE's position in the global trade", adding "Khalifa Port, along other national ports, are important cornerstones to the development and diversification of the national economy".
The inauguration ceremony was attended by Sheikh Khaled bin Mohamed bin Zayed, member of the Executive Council and Chairman of Abu Dhabi Executive Office, Sheikh Mohammed bin Hamad bin Tahnoon Al Nahyan, Advisor of Special Affairs at the Presidential Court, Dr Sultan bin Ahmed Al Jaber, Minister of Industry and Advanced Technology, Mohammed Ali Al Shorafa, Chairman of the Abu Dhabi Department of Economic Development, and a number of senior officials.
The official inauguration of the expansion programme by the UAE President marks another major milestone in a year that has seen AD Ports Group list on the Abu Dhabi Securities Market (ADX), open new trade corridors, complete a series of major acquisitions, rapidly transform its business and portfolio of services, and build strong relations with existing and emerging trade partners for the UAE.
As part of the expansion, which includes the development of the port's South Quay, Khalifa Port Logistics, and Abu Dhabi Terminals at a total investment of AED4 billion, Khalifa Port has grown from 2.43 sq km to 8.63 sq km, while its quay wall has been significantly extended from 2.3 km to 12.5 km. It now provides 21 berths and offers a range of bespoke services for key strategic industries, positioning it among the global elite of deep-water ports, with an estimated value of AED20.4 billion.
The programme is set to make a major contribution to AD Port Group's goal of increasing handling capacity at Khalifa Port by 2030 to 15 million TEUs per year, and general cargo handling capacity to 25 million tonnes.
Falah Mohammed Al Ahbabi, Chairman of AD Ports Group, said: "Today, Khalifa Port is one of the most advanced deep-water ports in the world. By continuing to expand our operations internationally, we are honouring the memory of the leaders who placed us on the path to progress."
Capt. Mohamed Juma Al Shamisi, Managing Director and Group CEO, AD Ports Group, said: "It is fitting that we are celebrating Khalifa Port's 10th Anniversary and Zayed Port's 50th Anniversary today in 2022, which has been a transformational year for our organisation as we expanded our international reach and strengthened our portfolio. We have grown from a local champion into a publicly listed group with an expanding global reach. We will continue to expand and invest in the future and demonstrate our capacity for excellence across international markets."