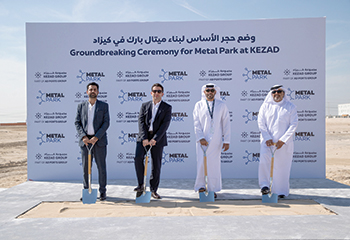 Officials at the ground breaking ceremony of the Metal Park in Kezad
A state-of-the-art 450,000 sq m integrated Metal Park that will help leading companies adapt to market demand without infrastructure constraint is coming up at Khalifa Economic Zones Abu Dhabi (Kezad).
The park will support storage and handling, processing, and fabrication activities, in addition to offering access to R&D amenities, rental office space, and associated financial services all in one location. Membership will enable Metal Park Investment ME's clients to reduce their operating costs with ease and without the overheads that traditional businesses in this sector face.
Mohamed Al Khadar Al Ahmed, Chief Executive Officer, Kezad Group, said: "As we continue our support for the ambitious Abu Dhabi Industrial Strategy, Kezad Group is proud to build upon our specialised economic zones offering with the development of the new Metal Park. With the development of this one-stop-shop project, more businesses will be able to look to Kezad as a key location where they can expand their operations and grow their international reach."