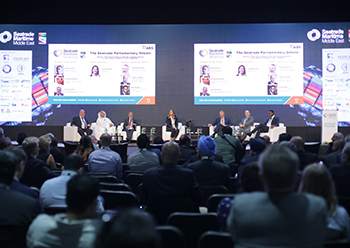 The event brings solution providers and seekers together
Seatrade Maritime Logistics Middle East, the flagship event of the UAE Maritime Week, will put digitalisation in the maritime industry under the spotlight. The conference and exhibition, scheduled to be held on May 16 to 18 at the Dubai World Trade Centre, is being held under the patronage of the UAE Ministry of Energy and Infrastructure.
The event will bring together some of the leading tech-solution providers from all around the world to enlighten the attendees about the benefits of using modern tools, and how they can revolutionise the industry. It will serve as the ideal platform to find solutions for operational challenges, environmental issues, and ever-increasing functional costs.
"ABS is well positioned and continues to make the right investments in people, systems and technologies to drive and shape the future of Class in the Middle East region. We continue to make significant investments in digital technologies to advance safety and operational excellence in tandem with the industry's decarbonisation and sustainability ambitions, while moving towards a more condition-based approach to Class," said Chris Greenwood, ABS Regional Director of Business Development, Middle East & Africa.
"I am looking forward to attending Seatrade Maritime Logistics Middle East, and have some interactive discussions around the energy transition, new technologies trends, and regulatory compliance," Greenwood added.
In line with the IMO's goal of reducing GHG emissions by 50 per cent by 2050, Seatrade Maritime Logistics Middle East has placed decarbonisation at the top of its agenda. Advanced digital solutions will play a vital role in helping the sector achieve this target.
Highlighting how technology can help the sector decarbonise, Scott Middleton, Regional Sales Director, Inmarsat said: "Optimising and decarbonising ships require a variety of technologies. IoT-based ship-to-shore connectivity enables owners and operators to enhance fleet utilisation, streamline commercial processes and reduce CO2 emissions with full transparency. Using the Inmarsat IoT platform Fleet Data, for example, ship emissions data is collected, stored, and uploaded for monitoring and analysis in real-time, allowing owners and operators to demonstrate and document the effectiveness of their carbon emissions strategies."