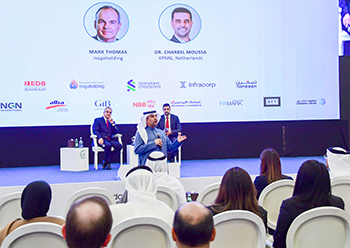 SFME in session
Sustainability Forum Middle East (SFME) has successfully launched its inaugural edition aiming to accelerate and mobilise private sector action on the region's decarbonisation.
The Forum, featuring high-level speakers and key panels with top government officials and business and climate leaders, launched with the participation of more than 400 senior decision makers, sustainability experts and dignitaries in Bahrain.
Held under the patronage of the Minister of Oil and Environment, Special Envoy for Climate Affairs, Dr Mohamed bin Mubarak bin Daina, the Forum focused on "Business Transition to Net-Zero – the Path Towards a Successful Low-Carbon Future".
Participants examined national and regional net-zero commitments and the critical role of the private sector in achieving them. The Forum's world-class programme looked holistically at the road ahead towards net-zero and the essential collaborations, funding and regulations required for the successful and rapid decarbonisation of businesses across all economic sectors.
Dr Daina applauded the efforts made by the organisers to host such a successful forum, which aims to integrate environmental and economic endeavors, advance toward achieving sustainable development goals, support national efforts to reduce carbon emissions, and find practical economic and development solutions that are consistent with Bahrain's Economic Vision and its environment and climate commitments.
"Bahrain is eager to support environmental initiatives with the private sector's role in more development, emphasising the importance of experts' role in enriching scientific dialogue, which is regarded as a critical pillar to green initiatives and diverse development projects," Dr Daina said.