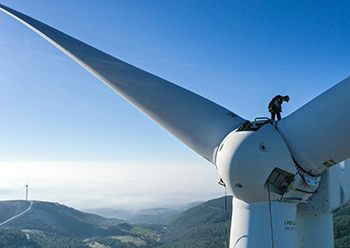 Vestas will focus on global manufacturing
Wind turbines are big enough for now and the challenge over the next decade will be expanding output to meet green goals around the world, the world's top producer said.
Vestas Wind Systems – which in 2021 announced a 15-megawatt offshore turbine that at the time was the world's largest – currently doesn't plan to make them bigger, Chief Executive Officer Henrik Andersen said in an interview to Bloomberg in Davos.
Bigger isn't always better when it comes to wind power. That's because onshore wind has different requirements depending on the site, and for offshore wind the newest and most efficient turbine is best, the CEO of the Danish giant said. It's also difficult to transport components once they get too big.
The company will focus on global manufacturing and plans to expand some of its existing sites, including in Poland.
Yet Vestas was slow to roll out the latest generation of its offshore turbine. The delay left it trailing competitors General Electric Co and Siemens Gamesa Renewable Energy and was something Andersen said he regretted.
Even if Vestas sticks with its current generation as long as possible, its competitors could move ahead with larger turbines in the coming years and possibly leave the Danish company once again playing catchup.