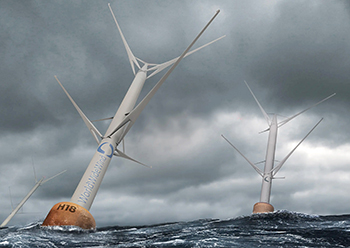 World Wide Wind's integrated floating wind turbines can be scaled up to 40MW
World Wide Wind AS, a newly established company presenting a novel solution and technology – counter-rotating vertical axis turbines and Norsk Hydro, the aluminium giant signed a letter of intent (LoI) to explore the use of aluminium in the renewable wind industry.
The two Norwegian companies are partnering to develop floating wind turbines with a design specifically meant for offshore conditions. The goal is to use sustainable and recyclable materials in the construction, including aluminium.
The two will begin by building a prototype of World Wide Winds contra-rotating vertical turbine (CVRT) concept, which features two omnidirectional rotors spaced apart on a tower-spar structure, all anchored with a novel turret-shaped mooring system to the seafloor. The duo expects to expand its collaboration to investigate employing the lightweight metal alloy in the "renewable wind industry" more broadly.
The levelling cost of energy (LCOE) for floating wind can be reduced to €50/MWh ($49.85) from present levels that are over 2.5 times higher thanks to the CRVT.
Depending on whether fluid ballast is taken into consideration, a CRVT made of aluminium would be "between 10 and 50 per cent [lighter] than a semi-submersible steel [floating turbine]," according to World Wide Wind.
World Wide Wind says its integrated floating wind turbines can be scaled up to 40MW or 2.5 times that of current wind turbines. Such wind turbines will use less materials and have a smaller carbon footprint than conventional onshore wind turbines.
Trond Lutdal, the CEO of World Wide Wind, said: "Today, wind turbines used for floating wind have more or less the same design as turbines meant for land-based wind. In effect, we are moving a land-based technology offshore."
"We are developing a new type of floating wind turbine for deep waters, with significant benefits relative to current technology in energy production, cost, scalability, and environmental footprint [by using] aluminium components in parts of the wind turbine structure."
"Having Hydro as a partner in developing our turbine using sustainable materials such as aluminium is a big step forward for us. Use of local content will be part of our common strategy as we advance."
Trond Furu, the Research Manager at Norsk Hydro Corporate Technology, said: "For Hydro, this is an entry into the wind turbine production chain, and at the same time, we are strengthening our position within renewable energy. Hydro sees the potential for increased aluminium in many industries, including wind power."
The LoI states that Hydro, one of the world's largest aluminium producers with over 50 smelting facilities, and World Wide Wind aim to form a collaborative team to plan and detail relevant activities and actions.
A developer could halve the distance between turbines on a wind farm, which is super-important for efficiency in capturing wind in a project site area, according to Lutdal. The slender-profiled CRVT is engineered to minimise the wake effect—the turbulence created as the wind moves through a rotor star—created by three-bladed turbines.
According to World Wide Wind, its CRVT solution mitigates some of the shortcomings of the current VAWT technology and is expected to surpass the current HAWT performance along most if not all parameters. World Wide Wind's scalable design and technology for counter rotating vertical wind turbines represents the core elements of future wind turbine design, and will significantly improve the viability of wind power going forward.
With an eye toward "spin-off applications" for the idea, such as offshore charging stations, renewables-powered aquaculture, and green hydrogen generation, WWW plans to speed up the development of the technology by "rapid prototyping" to get up to a 3MW model of the CRVT by 2026 and then make the leap to the enormous 40MW design by 2029.