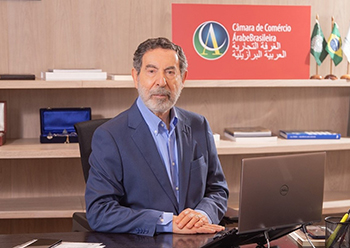 Osmar Chohfi
Brazilian exports to the Arab world witnessed a staggering growth, climbing to $17.743 billion in 2022, according to the Arab Brazilian Chamber of Commerce (ABCC). Brazil's imports have touched $15.037 billion in 2022.
Brazilian exports to Saudi Arabia witnessed a growth of 41.26 per cent from $2.070 billion in 2021, to $2.925 billion in 2022. Similarly, exports to the UAE increased by 40.09 per cent, from $2.327 billion in 2021, to $3.260 billion in the following year.
Additionally, the Brazilian exports to Egypt also saw an increase of 41.20 per cent to $2.843 billion in 2022, compared to $2.014 billion in 2021. Qatar witnessed a similar growth of 45.33 per cent from $284.26 million in 2021 to $413.132 million in 2022, while Kuwait saw a surge of 56.91 per cent, amounting to $303.886 million in 2022, compared to $193.66 million in 2021.
The ABCC report stated that products like cane or beet sugar, and chemically pure sucrose in solid form were the top products exported to the Arab world, totalling to $3.443 billion in 2022. Meat and edible offal of the poultry both fresh and frozen followed closely behind cane in the list of top exported commodities, which amounted to $3.164 billion.
This was further followed by iron ores and concentrates including roasted iron pyrites ($2.914 billion), maize or corn ($2.013 billion), soyabeans ($1.107 billion), and frozen meat of bovine animals ($805.640 million).
Osmar Chohfi, President of the ABCC said: "The positive trade figures reflect the robust as well as the growing trade relations between Brazil and Arab nations. Despite numerous unprecedented challenges posed by the pandemic, Brazil and the Arab nations were able to swiftly gain momentum in increasing their exports and bolster their trade."