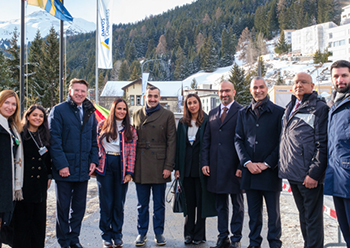 The high-level delegation at Davos
Bahrain has showcased its unique investment opportunities, along with the kingdom's achievements under the Economic Recovery Plan during its participation at the World Economic Forum (WEF) 2023 annual meeting.
Bahrain's high-level delegation was led by Noor bint Ali Alkhulaif, Minister of Sustainable Development, at Davos from January 16 to 20.
The delegation included Abdulla bin Adel Fakhro, Minister of Industry and Commerce, Shaikh Abdulla bin Khalifa Al Khalifa, Chief Executive Officer of Osool and Chairman of Bahrain Telecommunications Company B.S.C (Batelco), Khalid Humaidan, Chief Executive of the Bahrain Economic Development Board (EDB), Iain Lindsay OB OBE, Advisor to the Board at the EDB, Dr Samer Al Jishi, Group President of BFG International, and Hala Al-Moayyed, Vice Chairman of the Board at Al-Moayyed International Group.
Alkhulaif took part in three panels titled "Formulating the Future: How Women Are Shaping Sustainability Across Sectors," "Accelerating Clean Power," and "Between Liquidity and Fragility: Reforming Mena." She also participated alongside the Minister of Industry and Commerce in a dialogue about climate change in the Middle East, and alongside Humaidan in the "Sustainable and Digital FDI" panel.
Meanwhile, Humaidan participated in three other discussion panels titled: "Developing New Realities: Redirected Focus in a Changing World," "Bricks or Clicks: What Kind of Investment do Economies Need?", and "Busting Business Barriers."