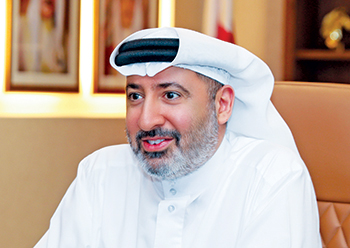 Shaikh Daij bin Salman bin Daij Al Khalifa
Aluminium Bahrain (Alba), one of the world's largest aluminium smelters, last month commissioned the Forced Cooling Network (FCN) Project at Potlines 4 and 5.
Managed in-house by the Operations and Engineering teams, the FCN Project has enabled Alba to creep-up the amperage to 410 kA in Potlines 4 and 5 which would ultimately lead to increasing Alba's production capacity by approximately 17,000 metric tonnes per annum.
Announcing the successful commissioning of FCN Project, Alba's Chairman of the Board of Directors Shaikh Daij bin Salman bin Daij Al Khalifa along with the Chief Executive Officer Ali Al Baqali, said it was mainly due to the exceptional teamwork of its employees.
The FCN Project commenced the detail engineering in August 2021 while the manufacture and installation began in March last year, said Shaikh Daij at a key ceremony held to celebrate the achievement.
Alba then successfully executed the project clocking an impressive 478,000 manhours worked on site without a Single Lost Time Injury, he stated.
Senior Alba executives, respective area directors and managers as well as concerned teams were also present during the commissioning of the FCN Project.
"By chasing operational efficiency, we will attain excellence as we journey to the future," remarked Shaikh Daij.
"Devised as a focus area within Alba's 5-year business strategy, the FCN Project started as one step outside our comfort zone since it was executed while Potlines 4 & 5 were fully operational – and that speak volumes about the technical and operational expertise of our people," he added.
Al Baqali expressed delight on commissioning of FCN Project simultaneously in Potlines 4 & 5 on time and within budget. "Action expresses priorities and the key is to schedule our priorities right. I take the opportunity to thank our teams for this exceptional teamwork and for delivering this Project safely without any disruptions to our ongoing operations," he added.
6MW SOLAR PROJECT
Meanwhile, Alba awarded its solar farm project to Advanced United Systems (AUS), to install solar photovoltaic (PV) panels over 37,000 sq m with a capacity of more than 6 megawatts (MW).
The solar farm project will consist of around 11,300 solar panels to be fixed on the rooftop of Alba car parks and some of its buildings to include its Spent Pot Lining Treatment (SPL) Plant. The project will generate in the range of 10,539 MWHr per year and approximately 7,591,760 kilograms of carbon emissions would be reduced per year – corresponding to a total reduction of 189,794,000 kilograms of carbon emissions over 25-year span, Alba said in a statement.
Advanced United Systems is a Saudi company and part of the Taj Holding Group that specialises in smart grid solutions, energy, and renewable energy services.
Shaikh Daij stated: "Sustainability is entrenched in our vision, mission, and values; this project is fully aligned with our Environmental, Social and Governance (ESG) ambitions."