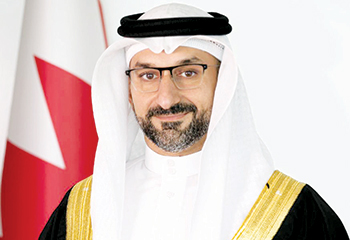 Abdulla bin Adel Fakhro
Export Bahrain, the national export development entity, has facilitated over $369 million in exports through Bahrain-based businesses across various economic sectors since its inception in 2018.
The exports covered over 65 unique product and service categories to over 68 markets worldwide, nine of which are new, including Cyprus, Algeria, Yemen, Nigeria, Mauritius, the Netherlands, Bosnia, Georgia and Taiwan, Export Bahrain said in a statement.
This year, Export Bahrain reinforced and increased export opportunities for current and potential exporters, which included over 11 per cent of exporters who entered new markets, where over 10 per cent represented service exports. More than 32 per cent of Export Bahrain's customers are women entrepreneurs.
CENTRAL ROLE
The agency has been playing a central role in boosting export-driven growth by connecting businesses with partners from around the globe and enabling them to thrive by accessing international markets and contributing to economic prosperity in the Kingdom of Bahrain.
"Export Bahrain's remarkable four years have been punctuated by an unprecedented series of milestones. Bahrain based businesses have been able to ramp up their export endeavours on a larger scale with Export Bahrain's tailor-made services and solutions," the kingdom's trade window said.
40 AGREEMENTS
Since its inception, Export Bahrain has signed more than 40 agreements with local and international partners, demonstrating its unwavering commitment to putting local exporters on the global trade map.
Building on these achievements, Export Bahrain has been able to gain global recognition by winning seven prestigious global business awards since its inception, most notably the HRH Princess Sabeeka Bint Ibrahim Al Khalifa Award for Bahraini Women Advancement in the private sector (small enterprises) category, 'Best SME Export Development Solutions – Mena 2022' by UK based Capital Finance International, and 'Most Innovative Export Platform Bahrain 2022' by the International Business Magazine Award.
Abdulla bin Adel Fakhro, Minister of Industry and Commerce, stated: "Today, Export Bahrain marks four years since its inception. The national entity continues to drive the growth of businesses in Bahrain. Export Bahrain will continue to introduce and enhance a diversified portfolio of services and solutions that will accelerate the growth of exports with a drive to build on value, support economic growth, fuel innovation and reinforce Bahrain's position as a strategic global export hub by being a solution innovator through increasing efficiency of export solutions."
MAJOR INITIATIVES
Safa Sharif Abdulkhaliq, Chief Executive Officer of Export Bahrain, stated: "We are extremely grateful to all our partners and customers, with whom we have proudly worked side-by-side as we continuously endeavour to assist them and support their missions. We are currently working on announcing other major initiatives with the aim of building a repertoire of different types of solutions and offerings. We look forward to reaching new milestones and assisting more customers in the years to come."