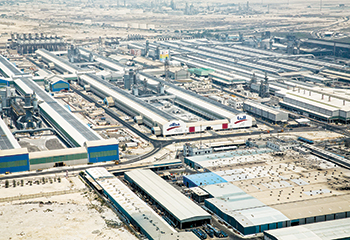 Manufacturing and logistics are among the priority areas under Bahrain's new Industrial Strategy
With the non-oil sector showing up strong growth (7.2 per cent up to the third quarter as per the latest quarterly economic report), Bahrain's strategy to prioritise industrial and manufacturing sector in its Economic Recovery Plan seems to be falling in place.
Even a latest Fitch Ratings report has pegged Bahrain's real GDP growth to reach above six per cent in 2022, buoyed by very strong non-oil growth as tourism-related sectors and real estate and construction posted strong performances.
For the industrial sector, which along with tourism is targeted to contribute as much as 26 per cent of the country's GDP by 2026, it's heartwarming to see that manufacturing has been one of the prime drivers for growth (5 per cent during the third quarter) more so when the economy is tackling the challenges brought on by a widely anticipated global recession.
DRAWING FUNDS
In the first three quarters of the year, Bahrain recorded $290 million in direct investment, with 25 manufacturing and logistics firms setting up and expanding their businesses within the Kingdom.
The Bahrain Economic Development Board which is responsible for promoting investment in the Kingdom said this inflow of funds is capable of creating more than 1,200 jobs over the period of the next three years.
Some of the noted companies expanding within the Kingdom are FedEx, BASF, and Racing Force International, while the new firms entering Bahrain include Bahrain Sugar Refinery, Hoover Circular Solutions, and KKC Industry, it said.
"Manufacturing and logistics are among the priority sectors for us and under the Economic Recovery Plan to support future growth and employment within the Kingdom," said Ahmed Sultan, executive director – business development for manufacturing and logistics at Bahrain EDB.
Overall, Bahrain EDB attracted direct investment from 66 companies during the first nine months of the year, which could create 4,700 jobs over the next three years in key sectors, including financial services, information and communications technology, logistics, manufacturing, and tourism.
Sultan added: "We are very pleased to see international manufacturing and logistics companies set up and expand in Bahrain, benefiting from the Kingdom's strategic location, enabling them to tap into the $1.67 trillion Gulf Cooperation Council market."
The manufacturing sector is a significant and consistent contributor to Bahrain's economy, accounting for over 13 per cent of the GDP.
HIGHEST FDI
Further, with the highest FDI per capita in the GCC and an FDI inward stock of 92 per cent, Bahrain has heightened potential for diversification and economic growth, noted Arthur D Little (ADL), the leading management consultancy firm in its report - Situating the Kingdom of Bahrain in a Future World: Opportunities for Foreign Investment.
The kingdom has amplified plans for economic diversification through FDI, backed by several competitive advantages that make FDI attractive, the report said.
A POSITIVE NATIONAL OUTLOOK
Already, Bahrain has embarked on an economic diversification campaign to establish the GCC's first 'post-oil' economy. The kingdom boasts the highest FDI per capita in the region, as well as an FDI inward stock in terms of nominal GDP – the highest in the GCC, it said.
The report sheds light on the specific competitive advantages through which Bahrain can realise this objective, including high government responsiveness, low cost of doing business, and full foreign ownership.
Moreover, the country houses a skilled local workforce and a series of global trade agreements, such as free trade agreements (FTAs) with 22 countries, foreign investment protection and promotion agreements (FIPAs) with 34 countries, and double taxation avoidance agreements (DTAAs) with over 40 international partners. Given this level of strategic positioning, there are numerous possibilities for Bahrain to consider and pursue in due course.