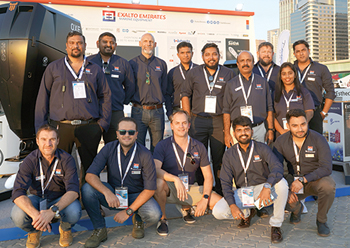 Exalto Emirates team at ADIBS 2022
Exalto Emirates showcased some of its most advanced and enviro-friendly marine products at the fourth edition of the Abu Dhabi International Boat Show, which kickstarted on November 24, 2022.
Organised by Capital Events at Adnec, the event witnessed the participation of over 400 brands from more than 28 countries, and recorded a 43 per cent growth in first-time exhibitors.
As the most prominent leisure marine event in the Emirate, ADIBS plays a vital role in catalysing the growth of the leisure marine industry in Abu Dhabi, and cementing its position as one of the leading yachting destinations across the globe.
Exalto Emirates presented its most reliable and technologically advanced marine equipment. This includes diesel outboard engines from OXE and Amaroq, and electric propulsion from Torqeedo.