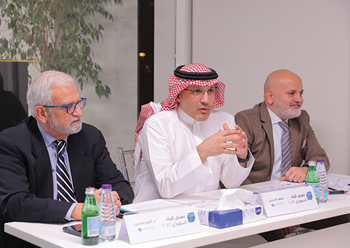 Officials addressing a press conference held to announce the launch of the exhibition
Saudi Arabia is witnessing an unprecedented surge in construction and giant urban projects that will reshape the future of the Kingdom and the region. The mega projects funded by the Public Investment Fund (PIF), Rns, related ministries, as well as the private sector, are creating mega projects and opportunities valued at more than SAR 4.87 trillion currently.
Housing projects by public and private sectors also see a large-scale boom to help bridge the gap between housing supply and demand, providing an opportunity for the building sector companies valued at over SAR 3.75 billion.
The impressive growth of this sector in the Kingdom has attracted more than 550 companies from 43 countries from the Kingdom and the world to participate in the 32nd edition of the Saudi Build International Exhibition and co-located events, last month (November 14 to 17) at the Riyadh International Convention and Exhibition Center concurrently held with the International Contracting conference.
Mohammed Al Husseini, CEO of Riyadh Exhibitions Company (REC), said during a press conference: "We are honoured that the Saudi Building Exhibition 2022 has the patronage of His Excellency Majid bin Abdullah. Al-Hogail, Minister of Municipal, Rural Affairs, and Housing," and that the event will show case the latest building technologies and innovations.
Al-Husseini added that the exhibition is held concurrently with the 23rd Saudi Elenex Exhibition, which specialises in electricity and renewable energy, the Saudi Stone and Marble Exhibition, and the Saudi Heavy Equipment Exhibition, making it a unique platform dedicated to the construction sector that will provide innumerable opportunities and business prospects for investors and trade buyers to secure the best technologies for their needs.