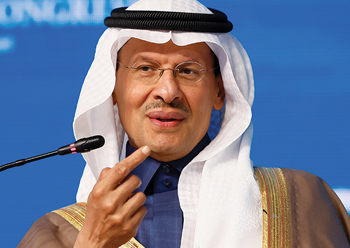 Prince Abdulaziz bin Salman Al-Saud, Minister of Energy, Saudi Arabia will share the stage on the fi
The Energy Ministers of Saudi Arabia, Bahrain and Qatar will share the stage at the 16th Annual GPCA Forum this December to address how policymakers can balance net-zero ambitions with growth
The Gulf Petrochemicals and Chemicals Association (GPCA), the voice of the chemical industry in the Arabian Gulf, has announced an exclusive Ministerial Panel featuring Energy Ministers from across the GCC, including Saudi Arabia, Bahrain and Qatar at the 16th Annual GPCA Forum taking place for the first time at the Hilton Riyadh Hotel & Residences, Riyadh, Saudi Arabia from December 6 to 8, 2022.
Prince Abdulaziz bin Salman Al-Saud, Minister of Energy, Saudi Arabia, HE Dr. Mohamed Bin Mubarak Bin Daina, Minister of Oil & Environment, Special Envoy for Climate Affairs, Bahrain, and HE Saad bin Sherida Al Kaabi, Minister of Energy, Qatar, will share the stage on the opening day of the forum to address the panel's topic "Balancing net-zero ambitions in the energy sector with growth – A policymaker's balancing act".
According to GPCA research, GCC chemical revenue in 2021 soared by 77.2 per cent, the highest level recorded since 2013 due to post-Covid recovery that led to increasing demand and high chemical prices globally. At the same time, chemical revenue grew from $54.1 billion in 2020 to $95.9 billion year on year. Off the back of higher chemicals prices, GCC chemical trade balance revenue almost doubled between 2020 and 2021 from $27 billion to $53 billion, with trade balance volume also growing by 30 per cent, reaching 56.5 million tonnes.
While the industry remained buoyant over the last 18 months, it is currently off track to achieve its ambitious net-zero targets by 2050. According to the International Energy Agency, globally direct CO2 emissions from primary chemical production amounted to 925 Mt in 2021, a 5 per cent increase with respect to the previous year. This is due to a production increase to levels above those in 2019. In the GCC, average CO2 intensity increased by 3 per cent in 2021 as emissions rebounded since the CovidD-related lockdowns in 2020. Nonetheless, CO2 intensity has remained on a declining trend since 2013.
Dr Abdulwahab Al-Sadoun, Secretary General, GPCA, commented: "If the industry is to achieve its net-zero ambitions by 2050, it would need to focus on growing its utilisation of renewables, improving its energy efficiency, reducing its emissions, and capitalising on new markets for carbon and other by-products as part of the circular economy. Regional producers alongside their regional and global value chain partners are taking concerted steps, committing new investments and accelerating their research and innovation efforts in line with their decarbonisation efforts. Both the public and private sector have a crucial role to play on the road to net-zero. GPCA is, therefore, pleased to host some of the region's most prominent policymakers for an exclusive ministerial panel where forum delegates will have an opportunity to hear first-hand about our regional governments' plans and initiatives enabling the transition."
Hosted by Sabic, this year's forum will be held under the theme 'Chemistry in Action: Shaping a Sustainable Future.'
The Annual GPCA Forum will host the inaugural GPCA Symposium on December 7-8 under the slogan "Delivering our Plastics Circularity Ambitions" to showcase the efforts of the plastic industry in enabling a more circular future.
This year GPCA is launching another inaugural event – the GPCA Youth Forum on December 5-6 under the theme 'For The Youth. By The Youth.' as a platform for knowledge sharing with university students and young professionals.