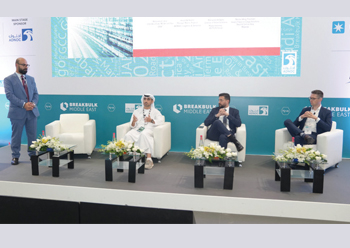 The 2023 edition of BBME is expected to be the largest one ever held in the region
Breakbulk Middle East (BBME), the region's first and only event dedicated to the breakbulk and project cargo industry, aims to drive the growth of the Middle East as a leading breakbulk and project cargo hub.
Set to take place at the Dubai World Trade Centre from February 13 to 14, 2023, the much-awaited event has opened registration, marking the first step in its countdown to the opening day.
BBME 2023 will bring together some of the leading organisations across the industry under one roof to reconnect with one another, and build an ecosystem that catalyses the sector's progress. In addition to introducing ground-breaking initiatives that empower the industry, such as the "Education Day" and the "Women in Breakbulk Breakfast", the event will provide participants with opportunities to meet thought-leaders, secure long-term partnerships, and exchange ideas that solve significant issues.
DRIVING GROWTH
The 2023 edition of the event is expected to be the largest one ever held in the region. With over 4,000 attendees, more than 125 exhibitors, and 2,100+ companies expected to take part in the event, attendees can be assured of an unparalleled opportunity to connect with the region's breakbulk and project cargo sector.
Speaking on the significance of the event, Ben Blamire, Event Director of Breakbulk Middle East said: "Considering the value BBME has added to the sector over the years, it is not unusual that the event has grown year after year in terms of size and exhibitors. We are catering to an industry that contributes over $24.5 billion annually to the UAE's economy."