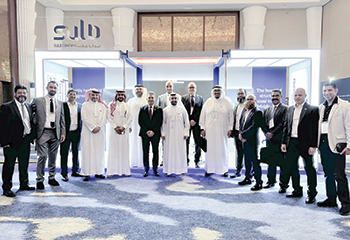 Steel industry stalwarts pose for a photo at the event
Foulath Holding, a leading iron and steel group based in Bahrain, said its major subsidiary, SULB, held discussions with leading global industry players and engaged in long-term networking opportunities at the Middle East Iron & Steel Conference 2022 held in Dubai.
The first fully integrated light, medium, and heavy beams and structural steel sections producer in emerging market, SULB, had a major presence at the event, as a Gold sponsor.
The three-day event, which was held last month, at Atlantis the Palm, Dubai, was witness to the largest gathering of global experts from the iron and steel industry in the Mena region, said the organisers Fastmarkets.
The Conference delivered a suite of key industry content from senior regional experts including Ravi Singh, Chief Executive Officer of SULB for Bahrain & KSA, who was among the Keynote executive panel members alongside Engineer Saeed Ghumran Al Remeithi, Group CEO of Arkan and CEO of Emirates Steel Arkan, and Raju Daswani, CEO of Fastmarkets.
The panel addressed the shift from net importer to net exporter, the changing landscape of steel production in the GCC, and the effects of higher oil prices on the region, it stated.
As the ideal platform gathering leading professionals in the sector, this year's Middle East Iron & Steel Conference covered topics such as raw material dynamics, iron and steel production fundamentals and consumption drivers in Middle Eastern and North African countries.
In his key address, Singh said: "SULB strives to maintain its standing as a regional leader in the steel industry with a focus on people, safety and sustainability."