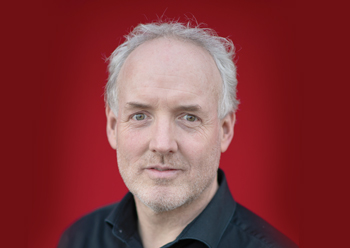 Marcel Kars
The concern among businesses to 'optimise, protect and power' operations is very apropos given the state of the supply chain and 'The Great Reset' we seem to be undergoing. I suspect very little of your operation is in the same state it was two years ago, and I know your priorities have significantly shifted. Whether you're a logistics manager, IT decision-maker, or procurement professional, the only things that matter at present are augmenting your workforce, sourcing the right supplies, right-sizing inventory, increasing capacity and throughput and finding the right shipping channels. These are the things that make it possible to sustain operations, keep customers happy and remain profitable in an impossibly volatile market.
However, the only thing that is making these things possible in today's climate is technology. There are only so many hours in the day and so many people on the clock. If you don't implement, refine, or scale technology systems quickly, it's going to be difficult to see or do much more than you and your team do today. It's certainly what my colleagues and I are hearing and seeing at trade events. Businesses need to find out what technologies are available to help them power, optimise, and protect operations today and long into the future.
Truth be told, nearly all technologies you see can probably help you in some way. They wouldn't be on the market if they didn't offer a certain benefit. So, the first thing you should do before you meet with technology providers is consider what exactly it is you're trying to do – whether that's solve specific problems, mitigate foreseeable risks, or simply boost efficiencies to gain a competitive advantage. From there, it will be easier to narrow down possible technology solutions and evaluate how fast they'll be able to deliver results, how well they'll integrate into your overall systems architecture, and how scalable they'll be in the future as your operational needs evolve.
For example, I'm assuming automation is hot on your list. The more decisions and processes you can automate, the more you can free up human workers to focus on tasks that machines aren't well-suited to take on. But what type of automation technology do you need and where do you need it most? If that's something you're still pondering, let me point you toward two types of automation worth a closer look: robotics automation and industrial automation.
GROWING FOND OF AMRS
According to a recent Global Warehousing Vision Study commissioned by Zebra Technologies, nearly eight in 10 associates say walking fewer miles per day would make their jobs more enjoyable, even if they had to pick or handle more items. And 83 per cent of associates who work alongside Autonomous Mobile Robots (AMRs) today confirm the robots have helped increase their productivity and reduce their walking/travel time. That may not seem like a big surprise given the purpose and proven impact of AMRs in warehouse environments.
However, what you might find interesting is that 73 per cent of associates who work alongside AMRs today say the industrial mobile robots have helped them reduce errors, while 65 per cent say AMRs have enabled their advancement to new roles or opportunities.
If warehouse associates are giving AMRs that much credit, perhaps you should too. You need a way to recruit more workers, and you need a way to augment your existing workforce as business demands increase. They're a low-risk, high reward automation solution given that they can be deployed "as-a-service." You don't have to make a significant upfront investment. You could test out 20 AMRs this month as part of a full-service, robot-as-a-service (RaaS) subscription model and then add 200 more next month if you wanted to automate additional workflows or increase AMR support during the peak holiday season.
In addition to this deployment flexibility, AMRs have exceptional workflow flexibility. They can automatically pickup and deliver everything from raw materials and finished goods to packages and dunnage, and they can also guide newly-hired seasonal workers through picking and put away tasks so they can reach full productivity within hours or days – not weeks or months.
And because AMRs are completely autonomous, you don't need anyone on the IT or operations team overseeing or controlling their movements. Once these intelligent robots are configured, they will safely and dynamically navigate facilities on their own per the programmed workflow parameters and facility maps. If you ever need to redirect them to another task, a remote team or operations manager can update the workflow instructions using a cloud-based system.
INSPECTIONS MADE EASY
Speaking of flexibility, the advancements made in machine vision and fixed industrial scanning systems in the past 12-24 months have been nothing short of momentous. You can now use a single no code/low code software platform to program and power all smart cameras and fixed industrial scanners throughout your facility, whether installed on conveyor belts, forklifts or loading docks. If you want to move a camera or scanner to another location or application, it can be done by your in-house team within hours using the intelligent software platform.
Even better, quality control inspectors, loading and receiving teams, and others who may rely on the cameras and scanners in their workflow can successfully learn how to interact with these machine vision and fixed industrial scanning systems within hours. In fact, they may not even need to interact with the systems unless an issue is flagged, as industrial automation is allowing many workflows to be managed by exception.
The smart camera or scanner and the software within do most of the work – automating the product or label inspection process and rendering a pass/fail decision based on the quality criteria programmed for that workflow. If an item fails inspection or a package is flagged as being mislabelled, an alert is sent to a worker for further investigation and resolution.
TAKE A STEP BACK
Jim Lawton, a well-known robotics expert who now leads Zebra's Robotics Automation business, recently advised supply chain decision-makers to audit operations more holistically when valuing different types of technology as 'a solution' to anything. Inbound and outbound teams are equally affected by order surges. So, you can't assume that adding AMRs or machine vision systems on outbound processes will optimise or protect your business during volatile periods. I agree completely, which is why I'm now recommending that you reconsider where, why and how you plan to leverage automation solutions in the coming months and years.
Favouring innovation in outbound logistics is natural as it's the final step to revenue generation – making it a more 'obvious' priority. However, the inbound logistics process is often a root cause – if not the primary cause – of inefficiency and quality errors downstream. If you automate certain production, processing or fulfilment processes with AMRs or machine vision systems but don't automate receiving and replenishment workflows in a similar manner, all you're doing is creating more stress on your operation. Workers will struggle to get inbound materials and products put away or cross-docked because processes remain manual and laborious, even when forklifts and other machines are used. The sheer volume of inventory unloaded every day multiplies at record rates as customer demand balloons.
In other words, if you want to get more products out the door, you must balance operations by pulling more robotics and industrial automation solutions into inbound environments. This equilibrium is key to improving the dock-to-stock cycle times needed to keep up with the rapid pace of high-velocity outbound operations.