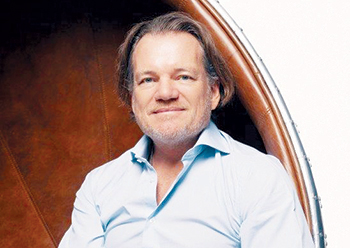 Sergio Hicke
Alfa Laval, committed to carbon neutrality by 2030, has some of the most innovative climate change technologies in the Middle East and supports ambitious net zero targets for the region.
The company is helping reduce carbon emissions in sectors that are difficult to decarbonise, while simultaneously cutting costs, with industry-leading energy-efficiency technology across a number of key strategic industrial sectors, including energy, marine, and food and beverage.
Sergio Hicke, Cluster President - India, Middle East & Africa for Alfa Laval has been part of the Alfa Laval group since 1995, serving in multiple leadership positions.
Alfa Laval is also one of the leading companies providing technology for refueling and also for the generation of clean energy and for the hydrogen production process. The company supports the hydrogen production process with high efficiency heat exchangers that make sure that energy is not wasted and is kept within the system thus making green hydrogen.
On November 1, Hicke participated on the Adipec Hydrogen Council round table at Adipec, where he gave further insights into The Hydrogen Council, a global CEO-led initiative that brings together 140+ leading companies based in 20+ countries with a united vision and long-term ambition for hydrogen to foster the clean energy transition.
From analysing hydrogen's role in manufacturing to what is required to scale up the opportunity to playing a key role in decarbonising the sector, Hicke discusses these and related issues in an exclusive interview with Gulf Industry. Excerpts:
How do you see the current role of hydrogen in manufacturing or industrial applications, and what is required to scale up the opportunity?
Hydrogen has been historically used in refineries and for fertiliser production. However, the demand for new industries is still ramping up. International Energy Agency (IEA) targets transport, buildings and power generation segments. We are seeing hydrogen-fueled cars coming on the roads and demand on refueling stations starting to grow.
Alfa Laval is proud to be one of the leading companies providing technology for refueling and also for the generation of clean energy and for the hydrogen production process. First, the use of hydrogen in industry requires investment in clean power followed by the use of that clean power in Hydrogen generation. Alfa Laval is proud to be a technology leader supporting clean energy generation with efficient solutions for energy storage. We also support the hydrogen production process with high efficiency heat exchangers that make sure that energy is not wasted and is kept within the system thus making green hydrogen. Green fossil fuels are still in widespread use, but investment in hydrogen is an investment for the sustainable future of this planet. Sustained political will and continued ESR investments will drive this reality to a carbon neutral future.
DNV predicts that the manufacturing sector will begin making direct use of hydrogen by the late 2020s, to replace coal and gas in high-temperature processes. Do you agree? What are the biggest problems that still need to be overcome for hydrogen to play a key role in decarbonising the manufacturing sector?
The availability of affordable hydrogen at competitive rates vs fossil fuel is one. The political will to change industry will be fueled by the consumer and their demand for products that are carbon-neutral. We as a people need to keep demanding goods made using clean energy and from manufacturers with proven Net-Zero production processes. The market realities of demand and supply still apply.
Given that heavy industry is responsible for nearly one-third of global CO2 emissions, is there a need to accelerate emerging strategies and the technologies to decarbonise steel, cement, aluminum, shipping, trucking and aviation?
Yes there is definitely a need. However, let's not forget that business has to run while we are doing this. A sensible step-wise increase in consumption is mandated and needs to be followed. You cannot have demand outstripping supply because that results in penalising those at the forefront of adoption. Capacity increase is planned and is transparent, so it is up to governments and the IEA to ensure that industry segment adoption is planned and not haphazard.
How is Alfa Laval committed to carbon neutrality? What are your some of the most innovative climate change technologies in the Middle East which support net zero targets for the region?
Alfa Laval works on reducing the energy load in existing industry by replacing old technology using high efficiency heat exchangers. This is our forte and helps our customers recover and reuse their energy more efficiently. On the new Clean Technology we are at the forefront with new technologies targeting:
1. Multi-effect evaporation allowing for waste energy to be used in electrolysis within Hydrogen production
2. ORC Solutions using our brazed units
3. LDES – Malta
4. Data Centre technologies
We are committed to also looking at our energy consumption in production and in the logistics end of our businesses with multiple projects running internally. Our investments help our customers reduce their Scope 1 and Scope 2 transmissions which supports industry as a whole.
How does your heat exchanger made using `fossil-free steel and recycled materials' contribute to decarbonisation?
At Alfa Laval, we are committed to doing our part in enabling a decarbonised future. With a commitment of becoming carbon neutral by 2030, we aim to eliminate emissions from our products, from raw material extraction to end-of-life. All over the world, Alfa Laval is working with customers to create new solutions for accelerating energy efficiency, clean energy and the circular economy.
Concept Zero is a crucial step on this journey, pushing the boundaries to develop a truly carbon-neutral plate heat exchanger with no misleading schemes. Alfa Laval has signed an agreement with SSAB, the global Swedish steel company, to collaborate on the development and commercialisation of the world's first heat exchanger to be made using fossil-free steel. The goal is to have the first unit made with hydrogen-reduced steel ready for 2023.
Global steel production accounts for 7 per cent of the world's carbon emissions. With a leading position in high-strength steel, SSAB's upcoming fossil-free steel made with HYBRIT technology will be a breakthrough for the industry as it transitions to more sustainable operations. Alfa Laval's energy-efficient heat exchangers, used in industrial processes worldwide, are made of 40 per cent steel and are up to 50 per cent more efficient than traditional technology. This means that they can save energy and reduce CO2 emissions.
In April 2021, Alfa Laval announced a new partnership with Stena Recycling to introduce a groundbreaking business model for boosting circularity in the heat exchanger supply chain. The collaboration is inspired by the Circular Initiative, a business-driven collaboration arena in circularity led by Stena Recycling.
The goal of this new initiative is twofold: Firstly, to encourage replacement of less energy-efficient plate heat exchangers by new modern products. This will lead to significant energy savings and reduced CO2 emissions in customers' processes. Secondly, plate heat exchangers contain large amounts of valuable metals that can be recycled and reused in new Alfa Laval products; Stena Recycling's innovative technology enables up to 100 per cent metal regeneration.
Can you please comment on: Alfa Laval's expertise in digitalisation and the transition to a sustainable and fair low carbon future?
Energy efficiency is in our DNA. It is something we have been developing for almost a decade. In fact, Alfa Laval's heat transfer solutions save 100 GW of energy every year. That is enough power to heat 20 million homes.
Our proven and efficient heat transfer solutions enable customers to save energy and water, improve heat recovery, and reduce carbon dioxide emissions by maximising energy efficiency in almost all industries.
Now, we are accelerating our technology for waste energy to improve existing industries and help businesses save energy today.
QR code tagging – Together with the customers, we are exploring connected exchanger technology. The connected exchanger allows for continuous monitoring of the unit performance and for conditional maintenance that can be predicted in advance, allowing for more reliability and uptime. In this initiative, QR codes are attached on every unit. Scanning the QR codes on the installed heat exchanger guides the end-user to find direct digital support, including troubleshooting assistance.
According to the Hydrogen Council's latest report, Hydrogen Insights 2022, the pipeline of hydrogen projects is continuing to grow, but actual deployment is lagging. What are the reasons for the slow uptake and how can this issue be addressed?
There is appetite for investment but traditional siloed plans are being challenged and our customers are now starting to look at their investments into capacity in a more combined way. For example, hydrogen plants and water generation in green hydrogen production are not being looked at as their own siloes, but investors are looking at energy integration between these two traditionally separate blocks. This integration has taken time, but investors are very aware and are correctly demanding future ready solutions which is a good time investment even if it results in projects getting off the ground is a little later than expected.
It's been recommended that joint action by the public and private sectors is urgently required to move from project proposals to FIDs. What factors inhibit policymakers from encouraging hydrogen uptake?
The traditional method of project planning and vendor selection is one factor. Public-Private partnership is the first step, but also including technology leaders on the planning platform as we have on the Green Hydrogen Council is the way to go. You cannot leave technology decisions to the end anymore, this is a vital aspect of the Carbon Score of new investments.