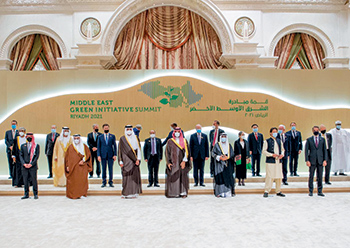 A file photo of the first Middle East Green Initiative Summit held in Riyadh in 2021
Middle East's green ambitions and developments are under a sharp focus as Egypt and the UAE prepare to host the next two major world summits on climate change.
This year, the 27th annual summit of the United Nations Climate Conference of the Parties or COP27 takes place in Sharm el-Sheikh, Egypt, starting November 6, while the UAE readies to host COP28 in 2023.
According to the UN, COP27 is being held against a backdrop of extreme weather events worldwide, an energy crisis propelled by the crisis in Ukraine, and scientific data reiterating that the world is not doing enough to tackle carbon emissions and protect the future of the planet.
A report published by UN Climate Change, said Egypt and the UAE are among 26 countries that have updated their climate targets in line with the pledges made last year at COP26 in Glasgow, UK. Egypt is promising to further cut greenhouse-gas emissions from electricity, transport and the oil and gas sectors, although this is only compared to previously forecast levels — and the commitment is contingent on receiving international financial support. The UAE is pledging to cut greenhouse-gas emissions by 31per cent by 2030, compared to business-as-usual level, which is beyond its previous promised cut of 23.5per cent.
The UN report says commitments made by countries in the past year will reduce projected emissions rises to 10.6per cent above 2010 levels by 2030, compared to the 13.7per cent forecast in a similar analysis last year. But they remain well short of what the world needs to limit warming to 1.5-degC by the end of the century.
According to the UN statement, COP27 will be about moving from negotiations, and "planning for implementation" for all these promises and pledges made.
Egypt has called for full, timely, inclusive, and at-scale action on the ground.
"Climate change is an increasingly important issue in the GCC region and is receiving a sharper focus in growth and diversification plans in countries such as Saudi Arabia and the UAE. The region has several competitive advantages, not least in relation to solar and hydrogen power," observes Oxford Economics.
Oxford Economics' research shows that the economic impact of global warming rises for countries that are already among the hottest in the world. The GCC belongs to this group.
Although dependent on oil and a manufacturing sector based on energy competitiveness, the GCC economies are undergoing transition and have long held plans to diversify. This means ambition and spending could be higher in the GCC than in other parts of the world, which could enable rapid progress in new sectors. This presents opportunities but also carries risks – GCC countries need to get it right or risk becoming old and dusty oil states.
"The GCC countries are embarking on a clean energy transition pathway, which targets more sustainable, efficient and cost-effective methods for using energy," Dr Mohamed Al Rashidi, Director of Energy, Secretariat General of the Gulf Cooperation Council (GCC), said.
"We are witnessing a real change happening in the region, with exciting visions and ambitious projects launched. This creates an attractive environment for the GCC and EU entities to be partners in this endeavour," he added.
Al Rashidi was addressing a webinar which was held with the goal of fostering closer ties on climate change issues between the EU and the Gulf Cooperation Council ahead of COP27.
The experts addressed the current debate around climate change, challenges of energy efficiency in the building sector, and the necessary strategies, policies and regulations to facilitate energy efficiency.
They also discussed investment and finance, business models in the energy efficiency sector, and the need for local and global sustainable growth and development. Focusing on energy efficiency as a critical driver toward decarbonisation in the sector, the event called for collective action through quick, cross-sectoral and human-centered interventions.
Participants presented practical solutions to issues such as low energy efficiency and chronic reliance on fuel subsidies, and discussed the role of clean energy in cost-effective energy consumption.
In May 2022, the European Union introduced its Joint Communication on a Strategic Partnership with the Gulf, aiming to broaden and deepen the EU's cooperation with the Gulf Cooperation Council and its Member States. The Communication presents concrete proposals to strengthen cooperation on energy, green transition and climate change, trade and economic diversification, regional stability and global security, humanitarian and development challenges, and closer people-to-people contacts.