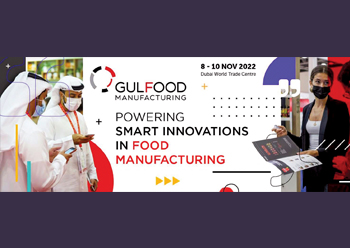 Gulfood Manufacturing 2022: unveiling the next era of food manufacturing
Taking place between November 8 and 10 at the Dubai World Trade Centre, Gulfood Manufacturing will showcase new global products, solutions and technologies across the food and beverage (F&B) value chain. This year's edition is set to be 40 per cent larger than the previous years', with 25 per cent of exhibitors new to the show, a statement said.
This year's edition will examine the themes of sustainability, and advanced technology adoption; nutrition and efficiency evolution, and stimulating innovation, in order to help organisations reduce costs, grow and transform, bringing together the F&B manufacturing industry across sectors in processing, packaging, ingredients, supply chain solutions and control and automation; in a single food ecosystem with an agenda that will shape the future of the manufacturing industry.
The biggest challenges in global food production will also be addressed, rising food prices principal among them.
A key feature this year includes the Food Tech Summit where over 100 of the industry's most dynamic and engaging speakers will convene to discuss an issue-driven agenda ranging from food engineering innovations, factories of the future, web 3.0 applications in food, emerging markets, food safety, circular ecosystems, sustainability-linked finance models, and much more. Industry leaders, regulatory and policy makers, financial institutions, geo-political and risk advisors, investors and research & development specialists will give their insights on various topics.
Dr Aman Puri, Consulate General of India, Dubai; Ahmad Sultan Al Haddad, Chief Operating Officer, Parks and Zones, DP World, UAE Region; Amadou Diallo, Chief Executive Officer Middle East & Africa, DHL Global Forwarding and Kebour Ghenna, Executive Director of the Pan African Chamber of Commerce and Industry are among the names slated to speak at the Food Tech Summit.
There will be four other co-located food and beverage events taking place simultaneously - GulfHost, The Speciality Food Festival, ISM Middle East (previously Yummex ME) and Private Label Licensing ME.