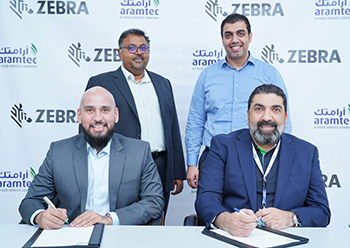 Aramtec, a prominent United Arab Emirates (UAE) premium food service distributor, aims to enhance its productivity by around 14% by using the latest technology from Zebra Technologies Corporation, a leading digital solution provider enabling businesses to intelligently connect data, assets, and people.
Aramtec will deploy a Zebra warehouse automation solution to further digitise and enhance its warehouse operations.
Since its inception in 1979, Aramtec has operated as a family-run business, supplying premium quality food to the UAE's hospitality industry. The company imports and distributes worldwide selected food brands and products across the region including Qatar. With over 2,500 stock keeping units (SKUs), it delivers to more than 3,500 customers including luxury hotels, restaurants, airlines and other commercial food and beverage outlets.
Aramtec is modernising its entire warehouse operations through digital transformation so it can respond faster to growing customer reach and changes in its supply chain environment.
"By deploying a more suitable and modern technology solution, we're able to give our front-line workers the tools they need to meet business goals and customer expectations," said Edgard Chalhoub, Managing Director, Aramtec. "This Zebra solution will help us improve our end-to-end processes, achieve greater visibility and management of our complex supply chain and distribution network operations, and allow us to increase overall productivity."
Aramtec is collaborating with Zebra partner Al Tarmez Digit System Technology who recommended Zebra's warehouse automation mobile solution including Zebra's MC3300X mobile computers, MC9300 ultra-rugged mobile touch computers, and ZQ320 Plus Series mobile printers with Certified Zebra supplies.
Aramtec will also benefit from Zebra's OneCare support services which includes technical support, comprehensive repair coverage, advance replacement and the latest software releases. Al Tarmez is supporting the implementation which kicked off in June 2023.
Aramtec is deploying the Zebra solution in its Dubai and Abu Dhabi distribution centres for inbound and outbound material management applications, and the printers are being used for shelf edge labeling in the warehouse and price tags. This Zebra solution offers a better value proposition overall, as the same devices can be used in different warehouse areas. After-sales support will help enable a smooth transition and integration into the customer's existing warehouse management system (WMS) SAP solution.
"We're delighted to support Aramtec's warehouse transformation and business growth," said Hozefa Saylawala, Regional Director, Middle East, Zebra Technologies. "Aramtec will be well-equipped to respond quickly to customer needs and changes in the supply chain environment, as well as enhancing the services it delivers to existing and new customers."