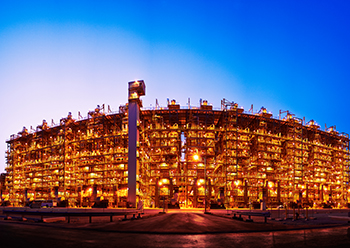 Sadara … the world's largest integrated chemical complex
Saudi Arabia's Vision 2030 places the manufacturing and logistics sectors at the forefront of its bold economic diversification strategy, and the Eastern Province stands as the linchpin of this ambitious plan.
The Eastern Province of Saudi Arabia is not just a gateway; it's the Kingdom's strategic powerhouse for global trade, fuelled by its abundant hydrocarbon wealth. Beyond the realms of oil and gas, this province flexes its industrial muscles with colossal petrochemical complexes and an extensive web of downstream industries. With its cutting-edge infrastructure, it functions as a vital conduit linking neighbouring nations, spanning from India and the Far East to Europe and America.
The Eastern Province's bountiful reservoirs of oil and gas, coupled with the presence of corporate giants like Aramco and Sabic, have enabled the region to forge some of the world's most significant ports, including the King Abdulaziz port in Dammam and the King Fahad Industrial Port in Jubail, as well as industrial juggernauts such as Ras Al Khair and Jubail within the Kingdom.
The region has direct access to all Gulf Cooperation Council (GCC) countries through land and sea transportation, with 66% of non-oil exports passing through its seaports. Specifically, the region's favourable location on the eastern coastline and its four major ports support the large-scale movement of goods to and from the Kingdom and enable the region's growing industrial sector.
Industrial areas in Dammam and Jubail have demonstrated significant achievements and unique developments in the entire region. The Eastern Province is attracting a large amount of new investment, especially in the industrial sector, following the implementation of Vision 2030.
Saudi Arabia's downstream industry is being developed as part of the country's larger economic diversification strategy away from hydrocarbons. Low local energy costs, a ready supply of raw materials, and a fast-growing population, in addition to the Saudi government's commitment to industrial diversification through foreign investment, have all contributed to the growth of Saudi Arabia's downstream economy.
Eastern Province is home to about 2,010 active factories (as of Q2, 2022) and there are seven industrial cities with ever increasing number of units being set up.
The region leads the Kingdom in terms of petrochemical exports in the country. The region is home to Sabic, one of the largest petrochemical companies in the world and a leader in basic chemicals products such as ethylene, methanol and polyethene. Sabic's overall production in 2022 was 61 million metric tons.
Sabic is a market leader in key products such as ethylene, ethylene glycol, methanol, MTBE, polyethylene and engineering plastics and its derivatives.
In addition, the region is home to Sadara petrochemical complex, a joint venture between Saudi Aramco and Dow Chemical business. Sadara is the world's largest integrated chemical complex built in a single phase. The complex has 26 integrated world class manufacturing plants producing three million tons of products per year.
Furthermore, Saudi Aramco signed an agreement to establish the Amiral petrochemicals complex, which is planned to produce 2.7 million metric tons of high-value chemicals and would include the first mixed feed cracker integrated with a refinery in the Gulf region.
Saudi Arabia is a global powerhouse in the production of basic chemicals, ranking first in the production of Mono-ethylene glycol (MEG), Methyl tert-butyl ether (MTBE) and second in Ethylene. Through programs such as the National Industrial Development and Logistics Program, the region seeks to capitalise on its current position as a leader in basic chemicals and to expand into downstream industries, conquering higher stages of the petrochemicals value chain.

Spark
One of the major new industrial zone is the King Salman Energy Park (Spark), a mega project in Buqaiq that provides a fully integrated industrial ecosystem with its first phase completed in 2021. Comprising over 50 sq km, Spark seeks to be a platform for the energy sector where investors can access key resources.
Three zones (including industrial, non-industrial and logistics zones) are developed in Spark to facilitate the investment process.
The Logistics Zone will begin operations in 2024. The zone, a state-of-the-art, fully automated district, will feature the first and largest private dry port in the region, on-site customs clearance services and bonded warehouses. It will be operated and maintained by Spark Logistics, a joint venture established between Spark and Hutchison Ports, the leading global ports operator.
The Logistics Zone will leverage Spark's strategic location in the Eastern Province, serving as a gateway for the regional energy sector. It will ease access to global markets and enable businesses to capture the growing demand for energy-related products through a seamless and efficient supply chain. Once fully operational, the Zone will handle up to ten million tons of cargo utilising fully automated RTG's (Rubber Tyred Gantry Yard cranes) and gates, along with the latest dedicated non-invasive scanning equipment to expedite the clearance of cargo.
Saif Al Qahtani, President, and CEO of Spark said: "The establishment of the Logistics Zone marks an important milestone for Spark as we work towards building an integrated, world-class ecosystem in the heart of energy demand for investors and tenants. Through the Zone, we aim to attract significant investment, drive economic growth and create new opportunities for businesses by providing unmatched access and connectivity to the region. This step advances our commitment to build a leading industrial ecosystem that connects the world to opportunities in the Saudi energy sector and beyond."
The Logistics Zone is included as one of the designated logistics zones within the National Transport and Logistics Strategy's Logistics Masterplan. It was developed as part of Spark's commitment to foster a vibrant energy ecosystem and world-class energy hub that drives economic growth and innovation in the MENA region, while advancing the Vision 2030's ambitions to transform the Kingdom into a global logistics hub and increase local manufacturing.
The park is expected to contribute more than $6 billion to the Kingdom's GDP and create up to 100,000 jobs.
Amiral Complex
Saudi Aramco has signed an agreement to develop the Amiral Petrochemicals Complex with TotalEnergies. With a total investment of more than $11 billion, the complex will generate 2.7 million metric tons of high-value chemicals, including the Gulf region's first mixedfeed cracker linked with a refinery. As a result, around 10 new chemical products (and the technology used to manufacture them) will be introduced to the Kingdom for use in industries as diverse as medical, construction, and automotive. It is also expected to create 8,000 local, direct, and indirect jobs, as well as a specialised training facility.
Amiral will be operated by the Satorp joint venture owned by Saudi Aramco (62.5%) and TotalEnergies (37.5%). Construction is scheduled to begin in 2023 with commercial operation planned for 2027.
The project aims to convert feedstock produced directly by the SATORP refinery, such as its off-gases and naphtha, as well as ethane and light naphtha supplied by Saudi Aramco.
Ultimately, the complex will also supply a park in the Jubail industrial area, where specialty chemical plants will be located. This expansion is expected to attract more than $4 billion in additional investment in a variety of industrial sectors (carbon fibers, lubes, drilling fluids, detergents, food additives, automotive parts and tires) and create around 7,000 direct and indirect jobs in the country.
The Amiral project involves the construction of:
* A mixed-feed cracker capable of processing different grades of low-cost feedstocks and producing 1.65 million tons of ethylene per year
* Two polyethylene lines, each with a capacity of 500,000 tons per year
* Units for extracting butadiene and aromatics, and producing high value-added derivatives
Reducing the site's environmental footprint is an integral part of the project's construction strategy. Special attention is being paid to its carbon intensity.
Engineering, Procurement and Construction (EPC) contracts for main process units and associated utilities have been awarded, marking the start of construction work on this joint project.

PlasChem Park
A collaboration between Sadara and the Royal Commission for Jubail and Yanbu is creating a world-class industrial park for the chemical and conversion industries. The 12 sq km area in Jubail Industrial City II, known as PlasChem Park, is close to Sadara's new manufacturing complex and is dedicated solely to the chemical and conversion industries that use Sadara's products directly or indirectly, as well as raw materials from other suppliers. The Chemical Park and the Conversion Park are the two main section of the site.
Sadara recently announced that its Ethylene Oxide (EO) and Propylene Oxide (PO) (EO/PO) pipeline transportation system is now fully operational, supplying feedstock from the company's Jubail chemical complex to tenants in the PlasChem Park.
These tenants will use the feedstock and other inputs to produce diversified specialty products, enabling important applications for the Kingdom in a number of key downstream industries, such as oil and gas chemicals, construction materials, detergents, home and personal care products, water treatment chemicals and coating and paint applications.
The EO/PO pipeline transportation system is the first of its kind in the Middle East and North Africa (MENA) region. Sadara's first trial of the system supplied feedstock to the Halliburton chemical facility, which was inaugurated in March of this year.
Commenting on the milestone, Sadara's CEO, Dr Faisal M. AlFaqeer, said: "This is a major step in the development of PlasChem Park, which provides business tenants with an easy access to one of our distinguished feedstocks."
"The facilities envisioned for PlasChem Park are vital for the future of the Kingdom's petrochemicals industry. They will help realize the Kingdom's Downstream Initiative, combining manufacturers' expertise with the special chemicals that Sadara produces, for the benefit of local, national and global markets," Dr AlFaqeer said.

Logistics
The Eastern Province is one of the Kingdom's main logistical hubs due to its world-class infrastructure and thriving economy. The region is set to become a competitive global logistics hub, particularly in the maritime sector, capitalising on the existence of advanced ports and location on the Arabian Gulf.
The region's transport and logistics network is supported by major seaports as King Abdulaziz Port Dammam, King Fahad Industrial Port, Jubail Commercial Port, Ras Tanura Port, and Ras Al Khair port, which connects Waad Al shamal Industrial city of the Northern Borders to the region.
Saudi Arabia has a strong maritime sector and is ranked 5th for speed of handling container ships, according to an annual index issued by United Nations Conference on Trade and Development (UNCTAD), with a weighted average of 16.8 port call hours.
International Maritime Industries
IMI, a joint venture shipyard between leading industry partners Aramco, Bahri, Lamprell, and HHI, is expected to be fully operational this year. It is the largest shipyard in the MENA region at nearly 12 million sq m. It provides new build and maintenance, repair, and overhaul (MRO) services for commercial vessels, including VLCCs, Bulk Carriers, Offshore Support Vessels, and Offshore Jackup rigs.
It is the only shipyard with guaranteed offtake agreements worth $10 billion over 10 years, with partners Aramco and Bahri, for the delivery of 20 rigs and 52 vessels. IMI will have the capabilities to build 4-6 jack-up drilling rigs, 25 OSVs, and 18 vessels per year, including chemical carriers, bulk carriers, product carriers and VLCCs. IMI's advanced shipyard will be able to maintain up to 250 vessels per year across this product mix.
IMI is the anchor facility of the King Salman International Complex for Maritime Industries and Services in Ras Al Khair, which is expected to contribute $17 billion to KSA's GDP, import substitution of $12 billion, and provide 80,000 direct and indirect jobs.
Meanwhile, HD Korea Shipbuilding & Offshore Engineering (KSOE) said its joint venture Makeen has broken ground on a marine engine plant at the King Salman Global Maritime Industries Complex.
HD KSOE has established the JV with Aramco and Riyadh-based investment firm Dussur and the factory will be constructed on a 150,000-sq-m lot in the complex.
The plant will begin commercial operations in the fourth quarter of 2025 and supply marine engines to global shipbuilders, including IMI. The factory will produce up to 30 large marine engines, 235 mid-sized engines and 160 marine pumps a year. It is also considering the production of dual-fuel engines, which use eco-friendly technology that can reduce greenhouse gases.

Automotive
Eastern Province is home to a growing automotive industry which has experienced steady growth in recent years. Jubail Industrial City and Ras Al Khair Industrial City provide over 90% of raw materials used in direct automobile manufacturing.
The region has an increasing number of automotive manufacturing companies, accounting for 30% of the Kingdom's total auto parts makers and assemblers.
The province is ranked first in Saudi Arabia for the number of autoparts companies and is home to a major truck assembly plant operated by Isuzu. It accounts for 30% of the total autoparts manufacturers and assemblers in the Kingdom.
Over the next few years, Eastern Province aims to shift focus from car assembly to full-fledged automobile production. This shift opens up new opportunities for the region's automotive manufacturers and investors.
The Kingdom intends to improve the infrastructure required to grow local manufacturing capabilities and capacity with the goal of constructing the first Saudi-made automobile in Jubail. The Kingdom's ambition is to localise the entire automotive value chain in Jubail into a single cluster where the Saudi National Automotive Manufacturing Company (SNAM) manufacturing plant is located.
The region currently has over 180 rubber and plastic factories, and the Kingdom plans to have the largest tyre factory in Jubail by 2030.