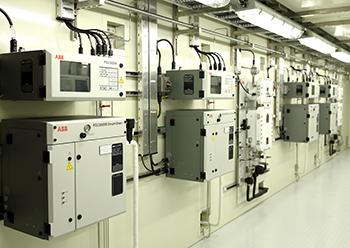 ABB has signed a framework agreement with Samsung Engineering in Saudi Arabia to collaborate in engineering and procurement activities in the Kingdom.
With this agreement, ABB becomes a single-source vendor for gas analyzer system integration for Samsung in Saudi Arabia.
Together, the two companies plan to explore business opportunities and provide complete analytical solutions to the Saudi oil and gas market. Effective measurement of gas quality is key to safety and reliability, decreasing the environmental footprint and increasing profitability of the production process. ABB's solutions support the most demanding applications.
"ABB is committed to helping customers in the energy transition. Between ABB and Samsung Engineering, we have an impressive portfolio that demonstrates technology expertise and technical capability. With this agreement, we are capable and ready to serve customers in Saudi Arabia," said Javier Suárez Díez, Global System Integration Manager at ABB.
ABB's analytical systems portfolio includes direct-read continuous gas analyzers, online gas analyzers using laser analytical techniques, rapid response process gas chromatographs and more. In addition to analytical systems, ABB provides gas analyzer system integration with fully customized analytical systems and solutions – from initial engineering through fabrication, testing, field start-up, and support.
ABB's 10,000 sq m world-class integration facility for analytical systems, which the company is building in Dammam, will support the collaboration. The factory is expected to become a leader in the production of analytical systems in the region.
ABB and Samsung Engineering have worked together on several occasions, including on the Aramco Jafurah phase 1 project. With this agreement, they are ready to serve customers in Saudi Arabia.
ABB's Process Automation business automates, electrifies and digitalizes industrial operations that address a wide range of essential needs – from supplying energy, water and materials, to producing goods and transporting them to market. With its ~20,000 employees, leading technology and service expertise, ABB Process Automation helps customers in process, hybrid and maritime industries improve performance and safety of operations, enabling a more sustainable and resource-efficient future.