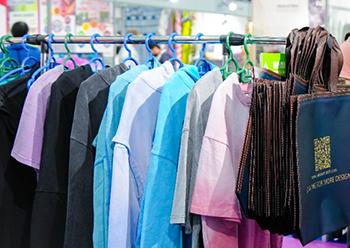 International Apparel and Textile Fair (IATF), UAE's exclusive fashion sourcing fair, will have exhibitors from 21 countries taking part with the expo offering greater and richer variety than previous editions.
The fashion industry's biggest showcase in the region and the go-to-sourcing hub for fabrics, textiles, apparels and more, is hosting its 15th edition from May 1 to 3 in Dubai World Trade Centre, Dubai.
The fair has evolved as a leading brand in the MENA region to source and highlight the best in textiles, fabrics, apparel, handbags, footwear, accessories and prints from renowned mills and manufacturers across the globe.
Exhibitors from various countries such as India, China, Egypt, Sri Lanka, Poland, France, Korea, Spain, Germany, Belarus, Turkey, Malaysia, Indonesia, Japan and others will be participating at the platform with new trends and innovations that contribute to the fashion industry in the Middle East.
"We are excited to announce that this May, we are welcoming on board pavilions from China, Egypt and India, giving the MENA region a gateway to international sourcing under one roof for three days," said a spokesperson.