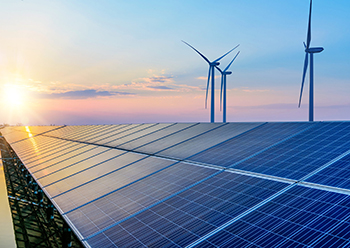 Significant investment in renewables are likely to be made by the Gulf states during the current decade as they implement plans to decarbonise the power sector, according to a new report by S&P Global Ratings.
Despite their dependence on the oil and gas industry, the Gulf nations have all announced new targets or renewed their commitment to the Paris Agreement in the past two years, the report notes.
As one of the largest sources of emissions, the power sector looms large in most national plans for decarbonisation.
Solar PV power is particularly well-suited to the region, but installed capacity remains low relative to many other regions. Capacity in the UAE and Saudi Arabia was 3 gigawatts (GW) in 2021; it had been just 165 megawatts (MW) in 2016.
Saudi Arabia and UAE
The two largest economies in the region -- the United Arab Emirates (UAE) and Saudi Arabia -- continue to lead climate-related efforts in the Gulf Cooperation Council (GCC). As of year-end 2021, about 90 per cent of the region's established renewable energy capacity was in these countries, with the UAE alone representing 77 per cent. They have also committed to updated targets as part of renewed efforts to reach net zero, the report highlights.
The governments of Saudi Arabia and the UAE have announced their intention to continue to invest in renewables and the report believes plans to establish a renewables sector could help them in their efforts to achieve their climate goals.
Government-related entities have taken the lead on procurement, inviting local and international developers to bid for tenders. Most developers then finance the assets on a non-recourse basis, which means using substantial commercial bank debt. However, the UAE and Saudi Arabia have both established public-private partnership frameworks, making project finance an obvious choice for funding deployment.
"As energy transition in the region progresses, we expect to see more renewables projects tapping the capital markets for financing, including a growing number of solar PV projects," says the report.
"In our global portfolio of solar PV projects, the key credit qualities include the timing of and budget for maintenance, availability, and good management of solar panel degradation."
Renewables are part of climate roadmaps
The Paris Agreement requires all signatories to set and maintain goals, known as nationally determined contributions (NDCs). Although their circumstances differ, all the governments in the region have publicly announced their net zero targets and are looking to deploy renewable energy to meet the climate commitments in their NDCs.
The power sector is a key source of emissions. The UAE and Saudi Arabia -- which produce the most greenhouse gas (GHG) emissions in the GCC in absolute terms -- have made the largest investments in renewables. Their
governments are among the many globally to have publicly announced their net zero targets, and a roadmap toward net zero.
Business-As-Usual Scenarios
Many countries, including those in the GCC, set their NDCs by reference to a "business-as-usual (BAU) scenario." This is a counterfactual baseline scenario based on the emissions that are predicted to have occurred if no steps to mitigate climate change had been taken since the base year, incorporating the effect of economic growth on emissions.
This means that in the short term, emissions in some countries might continue to increase, in absolute terms, but have been reduced compared with a scenario in which no policy interventions occurred.
In 2022, in its second NDC, the UAE increased its target for reducing GHG emissions to 31 per cent by 2030, relative to its BAU scenario. Its earlier commitment was to a reduction of 23.5 per cent against the BAU level. Under the new NDC, the UAE will limit emissions in 2030 to 208 million metric tons of carbon dioxide equivalent (CO2e), relative to the 301.2 million metric tons of CO2e emissions predicted under its BAU scenario.
The UAE's Renewable Energy Strategy 2050 states that decarbonisation of the power sector is a key priority. Organisations like the International Renewable Energy Agency (IRENA) do not include nuclear power in their datasets on renewable energy; the UAE, by contrast, includes nuclear and renewables in its definition of "clean energy." The UAE's goal is to have clean energy provide 30 per cent of its energy mix by 2030, and 50 per cent by 2050.
In 2021, Saudi Arabia announced an update to its NDC. By 2030, it now intends to reduce, avoid, and remove annual emissions of 278 million tons of CO2e. The NDC uses a base year of 2019. To achieve this objective, it aims to generate about 50 per cent of its power from renewable sources by 2030. Saudi Arabia has also set its net zero target for 2060, the report notes.