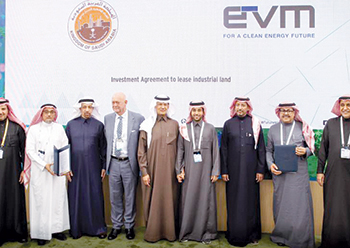 Officials at the agreement signing ceremony
EV Metals Group, a global battery materials and technology company, has announced that its regional unit, EVM Arabia, will be setting up a new battery chemicals complex on a 1.27-million-sq-m area at Yanbu, Saudi Arabia, at an investment of SR3.4 billion ($905 million).
EVM Arabia said it has already signed an agreement with Saudi Arabia's Royal Commission for Yanbu for the leasing of industrial land for the project as well as with the Saudi Ministry of Energy for allocation of gas and power.
The complex will see staged development and expansion of a lithium chemicals plant and a nickel chemicals plant, said the company in a statement.
The work on the first integrated battery chemicals complex of EVM, will begin in Q3 this year, it stated.
EVM Arabia said the commissioning of the first two trains of lithium hydroxide monohydrate (LHM) will begin in 2026 and gradually the annual production capacity will be ramped up to 50,000 tpa.
This will be followed by an additional four trains, taking total production of the lithium chemicals plant three-fold to 150,000 tpa of LHM, it stated.
The complex will process intermediate feedstock of critical raw materials from Western Australia to produce high purity chemicals containing lithium, nickel, cobalt, manganese and other metals for downstream production of Cathode Active Materials (CAM), it added.
It will see the production of chemicals required for active materials in the cathode that can be recharged for lithium-ion batteries for electric vehicles and renewable energy storage.
This comes as part of the SR43 billion ($11.4 billion) worth of agreements, signed by the Royal Commission for on the sidelines of the International Mining Conference held at the King Abdulaziz International Conference Center in Riyadh, for the establishment of key industrial projects in the cities of Ras Al Khair and Yanbu.
EVM Arabia said it has received a gas and power allocation equivalent to a daily standard amount of 6.24 million cu ft which will be used for the first two processing trains in the Lithium Chemicals Plant to produce high purity lithium hydroxide monohydrate.