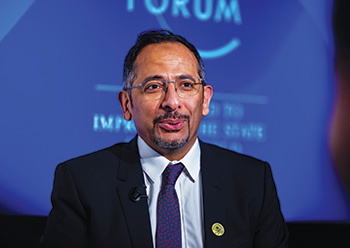 Bandar Ibrahim AlKhorayef
Development of the industrial and manufacturing sectors can make Saudi Arabia a global hub. The bold prediction came from no less than the Saudi Industry and Minerals Minister Bandar Ibrahim Alkhorayef who was addressing the World Economic Forum (WEF) in Davos, last month.
The Kingdom's plans to become a hub for global manufacturing, which will transform its industrial base, are well under way, according to plans outlined in Saudi Arabia's Vision 2030 strategy, the minister further said.
Alkhorayef's ambition clearly resonates with the Kingdom's Vision 2030 strategy to diversify the economy and reduce reliance on oil revenue. Industry has been targeted as a driver of future non-oil growth and job creation. Expansion plans are under way for the country's main strategic industrial segments: oil and gas; petrochemicals; and mining, a significant potential contributor to the economy.
In a bid to boost investment in the manufacturing sector and create jobs in the kingdom, Saudi Arabia launched its new industrial strategy in October 2022. The National Industry Strategy aims to triple industrial output and raise the value of industrial exports to $149 billion by 2030. The number of factories in the kingdom is expected to triple by 2035 and additional investment in the sector could reach $345.9 billion.
INDUSTRIAL OUTPUT GROWS 8.6PC
Alkhorayef's statement is backed by data which shows that Industrial production in Saudi Arabia posted a jump of 8.6 per cent in November 2022, reflecting the continued strong show in the manufacturing sector.
The manufacturing activity led a rise in the country's industrial production index (IPI), registering a robust 19.7 per cent increase in the month, over the same month of the previous year, according to data published by the Saudi General Authority for Statistics (GASTAT).
The IPI continued to show positive growth rates due to the high production in mining, quarrying, and manufacturing activity, the data showed, according to a Saudi Press Agency (SPA) report.
In November 2022, mining and quarrying grew by 5.7 per cent compared to November 2021. Electricity and gas supplies decreased by 10.9 per cent.
TOTAL INVESTMENT AT $376BN
Further, Saudi Arabia issued permits for 885 new non-oil industrial projects with a combined value of nearly $7.9 billion in the first 11 months of 2022, according to the Industry and Mineral Resources Ministry.
The new permits boosted the total industrial projects in the largest Arab economy to 10,742 with a total value of $376 billion, it said in a report.
They include 1,371 mining permits, including 589 mine exploration, 172 mineral exploitation, and 36 for minerals surveying, the report said.
It showed 989 new projects with a value of nearly$7.5 billion were completed in 2022, adding that they cover mainly light and medium products, including building materials, chemicals, paper, furniture and home appliances.
Small enterprises acquired 85.3 per cent of the new industrial licenses, followed by medium enterprises at 12.2 per cent, and then micro enterprises with 2.44 percent, according to the National Industrial and Mining Information Center.
The new licenses are distributed across six industrial activities, including food products, non-metallic mineral products, then manufacturing of shaped metals except for machinery and equipment.
The other activities were paper and paper products, clothing, and the manufacturing of chemicals and chemical products. In addition to this, the number of existing factories in the Kingdom until the end of the same month reached 10,742, with investments amounting to SR1.4 trillion.
Some 50 factories started production during the month of November, with an investment volume of SR830 million, topped by non-metallic minerals with 11 plants, followed by food with 10, and then chemicals with six.
INDUSTRIAL SHARE IN GDP
Saudi Arabia intends to offer at least 800 industrial projects with a combined value of more than SR1 trillion ($266 billion) in 2023, according to an industry official.
The projects are part of plans by the largest Arab economy to stimulate 'National Industrial Strategy' within its Vision 2030 designed to diversify the economy and lessen reliance on volatile oil sales, Industry Ministry Undersecretary Osama Al Zamil said. Zamil told seminar in Riyadh on the newly-released 2023 budget that the Kingdom's target is to triple the manufacturing sector's contribution to GDP to more than $238 billion and double non-oil industrial exports to over $148 billion at the end of Vision 2030.
"We are planning to present more than 800 industrial investment opportunities in 2023 with a total value of more than SR1 trillion …our aim is to bring addition investments of SR1.3 trillion ($346 billion) into the industrial sector in the next years," Al Zamil told the meeting.