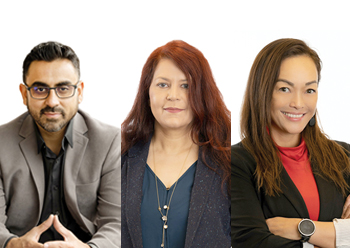 Jiwani, Chandra and Geiggar
Kelvin, a leading collaborative control software company delivering industrial intelligence, has bolstered its executive leadership team with strategic hires and internal promotion. The company has announced that Suhail Jiwani has been promoted to Chief Technology Officer; Sheena Chandra has been appointed Chief Strategy and Business Development Officer; and Citalouise Geiggar has been appointed Vice President of Marketing. The senior appointments aim to advance Kelvin's position in the market and enable it to continue partnering with global enterprises to solve industrial customer challenges by allowing companies to connect, create, and scale control applications across their operations, with market-leading solutions including Kelvin Carbon Maps and Kelvin Copilots.
"The right talent is vital to Kelvin's success, so it gives me great pleasure to welcome Suhail, Sheena, and Citalouise to Kelvin's executive leadership team," said Peter Harding, Founder & CEO of Kelvin.