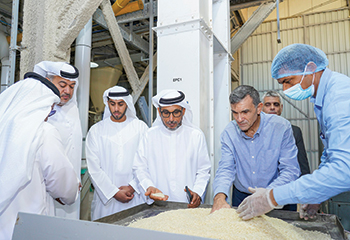 ADFD, ADEX delegation being briefed by Al Dahra officials
A delegation from Abu Dhabi Fund for Development (ADFD) and the Abu Dhabi Exports Office (Adex), visited Al Dahra Agricultural Company recently and discussed ways to develop the agriculture sector.
The delegates held a meeting with the company officials, where they explored ways to enhance cooperation and underscored ADFD's role in supporting the effort of major national companies to access the global markets.
The ADFD delegation, led by Mohamed Saif Al Suwaidi, Director General of the Abu Dhabi Fund for Development and Chairman of the Executive Committee of the Abu Dhabi Exports Office, included Rashid Al Kaabi, Director of ADFD's Investments Department; and Khalil Al Mansouri, Acting Director General of the Abu Dhabi Exports Office. ADFD delegation was briefed about the functions of the company's various departments, its production and trade of essential food commodities, supply chains and warehousing.
Al Suwaidi said: "At ADFD, we are keen to strengthen relations and unify efforts with national institutions operating in vital sectors. We attach great importance to supporting the national private sector, developing national exports, and enhancing their global competitiveness. Our visit to Al Dahra Agricultural Company is part of our initiative to support the company's strides in the agriculture sector and to achieve the national strategic objective to diversify the UAE's economy."
Khedaim Abdulla Al Derei, Co-Founder & MD Al Dahra Group thanked the delegation and stressed Al Dahra Group's keenness to strengthen relations with ADFD, as it plays a major role in promoting socioeconomic development and sustainability in the developing countries, as well as supporting the national economy.