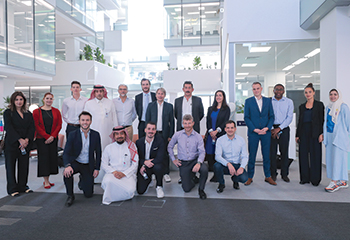 Spare Parts 3D team with key Saudi stakeholders during the French Fab Booster accelerator program
Spare Parts 3D (SP3D), a French startup that helps manufacturers digitalize their spare parts inventory through additive manufacturing (AM), recently introduced its AM solutions to key Saudi stakeholders during the French Fab Booster accelerator program.
The French Fab Booster is a scale-up programme dedicated to French innovative companies keen to establish in Saudi Arabia and become a major player of the Saudi Vision 2030.
The first French-Saudi French Fab Booster accelerator programme was held across Riyadh, Jubail and Dammam in Saudi Arabia (November 14 to 24) by Business France, the national agency supporting the international development of the French economy, in partnership with the National Industrial Development and Logistics program (NIDLP).
The French AM startup pitched its unique machine-learning software DigiPART in front of key local players, industrialists and investors during a 10-day immersion programme, which gave them the chance to explain the advantages of AM for a simplified, decarbonised and more reliable supply chain.
The 10-day programme kicked off with major Saudi firms like Aramco, PIF, Obeikan Investment Group, Equans, Axens, etc. present in the symposium. This was followed by visits to King Abdulaziz City for Science & Technology in Riyadh to learn more about the initiatives in AI, Robotics, and Industry 4.0 along with the innovation district represented by the Garage, and Obeikan Industrial City to explore their digital journey.
Intensive sessions were then scheduled with Asharqia Chamber in Dammam in the eastern region. SPD3D along with the other French delegates visited the Dhahran Techno Valley Holding Company (DTVC) – a wholly owned subsidiary of the King Fahd University of Petroleum and Minerals (KFUPM). Workshop sessions were also held with Al Sheikh group & Al Orouba Investment to coach and mentor French startups.
As an intensive business program focused on fast-growing companies in the areas of Industry 4.0, Spare Parts 3D has access to a soft-landing program comprising of mentorship, decision-makers, and Saudi investors, while providing specific tools to develop business in the Kingdom. The accelerator program was divided into four phases that lasted nine months, and offered services such as: go-to-market preparation, bootcamp, coaching, B2B business meetings with key local partners, and curated matchmaking sessions with local investors.
"We were honoured to have been selected by a French-Saudi jury to take part to this wonderful journey of business acceleration in Saudi Arabia. During this trip, we had fruitful discussions with key potential partners that are eager to engage in more cooperation to contribute to the Saudi Vision 2030 and the ongoing industrial transformation in the Kingdom," commented Paul Guillaumot, CEO of Spare Parts 3D.