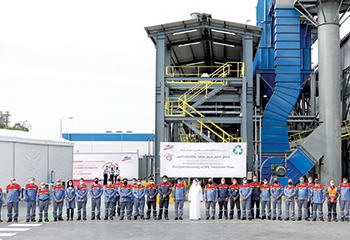 Alba has invested in the region's first SPL treatment plat
As focus on sustainability grows in markets around the world, environmental, social, and governance (ESG) investments and carbon net-zero are on the rise as companies aim to reduce or eliminate carbon from their operations and pursue more sustainable practices.
Environmental considerations are becoming increasingly pertinent in aluminium production as it is the most energy-intensive metal to produce, accounting for about 1.1 billion tonnes of global CO2 emissions per year.
While the big global players in the sector are taking strategic steps to transform themselves into green industries, closer home in the GCC region, some of the major players in the sector are taking equally impressive steps with notable, game-changing policies.
TREATING WASTE
"Environmental, social and governance (ESG) standards have gained momentum throughout the aluminium supply chain. As a result, suppliers, producers and clients are joining the race – with decarbonisation being a key value driver – by moving towards greener and more sustainable business models," Aluminium Bahrain (Alba) CEO Ali Al Baqali stated.
To help meet ESG goals, Alba has invested in the region's first spent pot lining (SPL) treatment plant, which began operations in December 2021. The facility is one of the key ESG initiatives in line with the kingdom's environmental and carbon-reduction objectives.
A zero-waste processing plant, Alba's SPL plant will enable it to transform the treated SPL in to valuable products, which can be used in other industrial applications, such as cement manufacturing.
"With the SPL treatment plant in operation, the company has integrated waste management and recycling into its operational spectrum to create sustainable value in a circular economy. The processed material, called HiCal, can then be used in the cement and construction industries. Indeed, the company recently exported its first shipment of 125 tonnes of HiCal to Thailand.
Japan's Mitsubishi Heavy Industries have also started working on a feasibility study for CO2 capture at Alba potentially contributing to Bahrain's net-zero and renewable energy targets.
The world's largest aluminium producer ex-China, with a production of more than 1.561 million per annum (2021) on March 28, last year, signed a Memorandum of Understanding with Mitsubishi Heavy Industries and its engineering company, Mitsubishi Heavy Industries Engineering, to capture carbon dioxide (CO2) emitted from the smelting process at one of its plants. Following this significant collaboration, on June 20, Alba propelled a new ESG campaign across all its plants to reassert the company's six priority areas according to its ESG roadmap. These steps are illustrations that explain Bahrain's undulated commitment to achieving net zero carbon emissions by 2050.
The latest buzz is that the Bahrain-based industrial giant is readying to produce aluminium commercially using solar power.
SOLAR POWER
Only last month, Emirates Global Aluminium, the largest industry company in the UAE outside of oil and gas, announced that it has agreed to supply CelestiAL solar aluminium to Kobe Steel to make automotive body sheet for Nissan.
The agreement with Kobe Steel will see the supply of EGA's CelestiAL solar aluminium to one of the largest rolling mills in Japan. Automotive body sheet is used by the giant Japanese automaker to form vehicle body panels such as doors and bonnets.
In 2021, EGA became the first company in the world to produce aluminium commercially using solar power, marketed under the brand, CelestiAL, through a partnership with Dubai Electricity and Water Authority, which operates the Mohammed bin Rashid Al Maktoum Solar Park in the desert outside Dubai.
EGA expects to vastly increase its production of CelestiAL through an initiative with Abu Dhabi National Energy Company PJSC (Taqa), Dubal Holding and Emirates Water and Electricity Company (EWEC) to divest its electricity generation assets and instead source power from the grid, including an increasing proportion of clean energy.
Abdulnasser Bin Kalban, Chief Executive Officer of EGA, said: "EGA was the first company in the world to make aluminium using solar power, and we are proud that our CelestiAL metal will now be used in Nissan vehicles through Kobe Steel, as well as those of other leading global car companies. We look forward to increasing our production of CelestiAL over the years ahead, contributing to the decarbonisation of EGA and of end user industries including auto manufacturing. I thank Kobe Steel for their continuing trust in EGA and our metal."
The use of solar power in producing EGA's CelestiAL solar aluminium significantly reduces the emissions associated with aluminium smelting and provides an opportunity for end users to reduce their Scope 3 emissions.
The company joined the First Movers Coalition in November 2022, associating itself with an international board to achieve Net zero by 2050. Also, as early as May 2022, the company actively participated in the 50th-anniversary meeting of the International Aluminium Institute (IAI), advocating the shift to greener energy for aluminium production.
DROSS RECYCLING
Contributing further to the role of 'green' aluminium in the region by reducing or eliminating waste is another notable company Taha International.
Out of the approximately 65 million tonnes aluminium produced annually, one million tonnes of aluminium dross is created as a by-product of the manufacturing process. While dross recycling is a well-established practice for aluminium manufacturers, but conventional methods still produce a sizeable carbon footprint.
However, Taha International says its Hot Dross Processing technology possesses the ability to change how companies handle their dross, making the process environmentally friendly and, most importantly, zero-waste. A recent study conducted by Ernst & Young, the Netherlands in collaboration with the renowned Austrian Montan University Leoben for Taha found that compared to other processes, Taha's process reduces greenhouse gas emissions by more than 80 per cent.
Taha International CEO Ammar Awachi, said: "The aluminum dross processing technology developed by Taha International has the potential to transform how companies manage their aluminum waste, making it more ecologically friendly and, most importantly, free of toxic and dangerous waste. This is in line with our commitment to support the strategy of the Kingdom of Bahrain in addressing environmental and climate challenges and to bring carbon emissions to net zero by 2060."
The company last month signed a deal with Indian aluminium giant Runaya Group enabling its use of Taha's patented technology for the processing of aluminium slag. The agreement also stipulates the provision of two advanced industrial units to Runaya.
Patrick Pollmann, Group CEO of Taha International, said that his company continues to be a global leader when it comes to the processing of aluminium slag. He reiterated Taha's determination to innovate in this area, employ the finest talent and set global trends for the promotion of aluminium metal, which has emerged as the metal of the future.
"As a result of this agreement, aluminium slag processing technology will help provide sustainable and distinctive solutions and present new perspectives in the Indian aluminium industry. Furthermore, the creation of methods devoid of hazardous and toxic industrial waste will support sustainable global economic growth." said Pollmann at the signing ceremony.