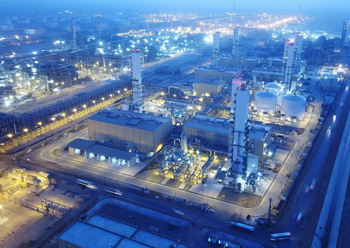 Jazan City ... boosting self sufficiency
In a bid to attract mega investments, the Royal Commission for Jubail and Yanbu (RCJY) is developing the infrastructure in Jazan City, the fourth industrial hub managed by the Royal Commission.
The Commission, recently signed investment and construction agreements worth over SR 1 billion ($266 million) with several investors in Jazan City, currently under development. The city concluded the agreements in the presence of RCJY chairman Khalid Al-Salem who confirmed that the new contracts contribute to achieving the city's goals.
Al-Salem explained that the new deals provided an infrastructure attracting investments in the food and mining manufacturing industries, establishing a vibrant community, increasing GDP output, creating new direct and indirect jobs, and boosting self-sufficiency in the targeted sectors.
CEO of Jazan City for Basic and Transformational Industries (formerly Jazan Economic City) Fahd al-Qurashi signed the agreements, which would create more than 300 direct and indirect jobs.
The investment agreements were signed with several companies, including Public Investment Fund-owned Saudi Coffee Company, to develop and build a coffee processing factory using the latest technology.
RCJY signed an agreement worth $80 million with United Feed Co. to build a grain and animal feed factory. The Royal Commission pumped nearly $109 million, including construction contracts and the development of the city's infrastructure, following top standards.
The city also signed two investment agreements with Namariq Arabian Services to develop a residential complex accommodating 7,000 people and an investment exceeding $38.6 million. They signed a deal to build 320 housing units for families at an investment of over $38 million on an area of 250,000 sq m for the two projects.
The importance of investment contracts and agreements stems from boosting investment and infrastructure development, which contributes to supporting the national economy, empowering the private sector, diversifying sources of income, expanding the production base, and creating sustainable job opportunities in the region.
BIG opportunities
The Jazan City for Basic and Transformation Industries, which is still under construction, currently holds SR88 billion ($23.4 billion) worth of investment opportunities, according to Al-Salem.
Jazan City for Basic and Transformation Industries (formerly Jazan Economic City) was attached to the Royal Commission for Jubail and Yanbu by royal decree in July 2015. It was earlier a joint venture between Saudi Binladin Group and Malaysia's MMC Corporation Berhad.
While speaking at the inaugural ceremony of the Port of Jazan City for Primary and Downstream Industries (JCPDI Port), Al-Salem said that Jazan City is attracting qualitative investments and forging partnerships with international parties. The City is the fourth industrial hub managed by the Royal Commission.
JPDI was inaugurated by Prince Mohammed bin Nasser bin Abdulaziz on September 7, in presence of several officials, partners, as well as local and foreign investors.
Al-Salem noted that the establishment of Saudi Silk Road Industrial Services Co., a joint venture incorporated by Guangyin International Investment Development Ltd., Royal Commission for Jubail and Yanbu, and Saudi Aramco Development Co., is proof of Saudi Arabia's strengthening trade and investment relationship with China.
Al-Salem added that the Royal Commission for Jubail and Yanbu has also signed an investment and operation agreement for the port with Hutchison Ports Co.
He noted that another agreement has been signed to establish an aluminum refinery with the Chinese company Hangzhou Jinjiang, with an estimated investment of SR4 billion.
Al-Salem added that an investment agreement has been signed to establish a factory for pasta production. A memorandum of understanding was also between the Royal Commission and Saudi Coffee Co.
"With this inauguration, we put the port of Jazan City for Basic and Transformational Industries on the map of global ports as a local, regional and global investment destination, which will contribute to attracting commercial and industrial activities in Jazan city in particular and in the southern region in general," said Al-Salem.
He pointed out that the Port is one of the most critical enablers supporting JCPDI's industrial growth. Al-Salem clarified that the Port consists, in its first phase, of three industrial berths, an SPM that provides services to Saudi Aramco Refinery, three commercial berths for handling containers including general cargo and bulk goods, in addition to storage yards with special areas for storing and monitoring refrigerated containers.
The port can receive modern fifth-generation ships whose tonnage reaches more than 21,000 twenty-foot equivalent units and allows the handling of general and bulk cargo ships with loads exceeding 100,000 tonnes per ship, Saudi Press Agency reported.
Boosting logistics sector
During the inaugural ceremony, the Minister of Industry and Mineral Resources Bandar Al-Khorayef said that the port will contribute to developing industrial capabilities and create more investment and job opportunities for the region's people.
He revealed that his ministry is partnering with the port to launch a new logistics area that will meet the highest international standards.
"There are 187 existing and under construction factories in the Jazan region, with investments amounting to more than SR70 billion. The port will be an added value to increase logistical activity in the Kingdom and the Jazan region in particular. The Kingdom plays a major role in global supply chains due to its distinguished geographical location," said Al-Khorayef.
Basic Industries
Khaled Al-Falih, Minister of Investment, said that the Jazan industrial zone will contribute to creating tens of thousands of jobs. He added that the Kingdom's aim is to create SR1 trillion investment goals in basic and transformational industries by 2030.
He stated that the ports are the cornerstone of any industrial development and that JCPDI Port will be a key driver of the logistics services in the Kingdom and the Middle East, due to its strategic location as the port sits on a global trade corridor.
"The port of Jazan City for Basic and Downstream Industries will be a center for providing modern and advanced logistical services not only to the Kingdom but also to the Middle East, because it is located on one of the most important sea transport corridors in the world, with 13 to 15 per cent of global trade passing through it," said Al-Falih.
Eric Ip, Group Managing Director of Hutchison Ports, said, "We have been in Saudi Arabia for 22 years, and it is a very important market for Hutchison Ports. Today's ceremony marks a new chapter for us in the Kingdom and we look forward to working closely with the Royal Commission to make Hutchison Ports Jazan a success and help JCPDI reach its full potential and contribute to the Saudi Vision 2030."