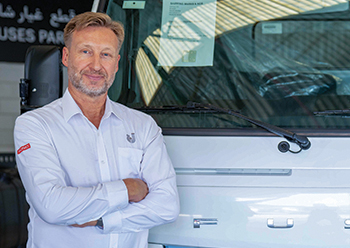 Schulze ... FUSO is known for its trusted quality
Juffali Commercial Vehicles (JCV) is the sole agent and distributor of Mercedes trucks and buses, and lately also a distributor for FUSO trucks and buses in the Kingdom of Saudi Arabia.
In association with Daimler, JCV provides its customers with unparalleled quality Mercedes-Benz and FUSO products, with reliable service even in the remotest areas of the Kingdom through its more than 900 employees.
Heiko Schulze, CEO of Juffali Commercial Vehicles (JCV), says: "The FUSO brand is known for its trusted quality, economic efficiency, solid and functional design, and committed services. FUSO is the leading Japanese brand across many markets, known for its track record of technological innovations and customer satisfaction based on the lowest total cost of ownership."
Trusted Quality
FUSO products offer ultimate reliability and durability, translating into payload and uptime for our customers. To ensure vehicles keep delivering profits, FUSO applies the Commercial Vehicle Development System (CVDS) and its clearly defined quality gates from project launch to production, guaranteeing our product maturity and quality. R&D in addition to expertise from around the world is exchanged and implemented to ensure our customers benefit from the most advanced designs and materials.
The Truck Operating System (TOS), also a global Daimler method, adopts manufacturing methods from the best plants in the world and serves as a benchmark to ensure the highest performance and continuous improvement in meeting objectives in terms of safety, quality, cost, delivery, environment, and employee morale. FUSO plants consistently rank as one of the leanest in global benchmarks.
FUSO products are known for their lifetime cost advantage, benchmark fuel efficiency, and ecology. "We consider not only the initial purchase price but also cost and profit drivers, such as ease to repair and maintenance, residual values, tax and insurance advantages, maintenance cycles, and fuel efficiency. The Canter, for example, is the world's most fuel-efficient vehicle in its class, proven by independent fuel efficiency tests and product ratings," says Schulze.
"We share our passion for efficiency with our customers using the FUSO Fuel Cup, a championship that rewards the most efficient driver," he adds.
Solid & Functional
FUSO vehicles provide the highest satisfaction of ownership and usability. "We are passionate about working cars and designing them with our customers' daily comfort, utility value, and ease of use. With world firsts, such as the first pneumatic shift transmission, shock-reducing DUONIC® dual-clutch transmission, and onboard multi-information display, FUSO has always provided its customers with the latest technology to improve their usability. In addition, customer voices are often reflected in our designs, such as the lowered fuel cap for our city buses to enable staff of any height to refuel the vehicle safely and efficiently."
The FUSO Canter pioneered an in-panel shifter because some applications needed to exit the cab from both sides. This medium-duty truck is available with two headlight configurations to meet the varying needs of construction and city applications.
"We believe that good design combines utility and aesthetics, which is why we offer countless ways to customise vehicles using genuine accessories. Our colour series trucks show the endless potential of one of the most advanced paint facilities in the business, offering our customers to use their vehicles as an extension of their corporate colour," says Schulze.
Committed Services
At JCV, customer care is a FUSO hallmark in Saudi Arabia. With a global network of excellent distributors and service partners, FUSO customers can rest assured that their vehicles can always be maintained in perfect working, profit-generating condition.
"Our service concept ensures a consistently high-quality experience. In addition, we continually train and test our service staff in the FUSO and mechanics to provide our customers with the best service," says Schulze.
"Our genuine parts are tested to manufacturer specifications and are provided by the original supplier to ensure they work exactly as they should. In addition, our comprehensive warranty programs and maintenance lease offerings further prove that we believe in our vehicles' long and reliable application," he concludes.