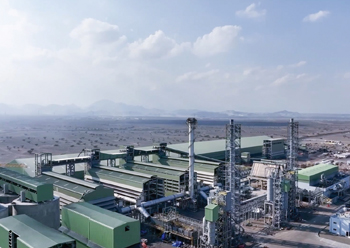 Sanvira carbon plant has a production capacity of 600,000 tpa
Oman's Sohar Free Zone has inaugurated the Sanvira carbon plant, which has a production capacity of 600,000 tonnes annually of calcined petroleum coke and 24 megawatts of electricity through produced steam.
The plant is an Omani-Indian partnership, represented by Oman National Investments Development Company "Tanmia", United Business company and India's Sanvira Industries, reported Oman News Agency (ONA).
The plant is the first of its kind in the Sultanate of Oman that transforms petroleum coke into a product of high industrial value, which is used in aluminium industries and several other mining industries.
The inauguration ceremony was held under the auspices of Salim Nasser Al Aufi, Minister of Energy and Minerals.
The project will provide 200 employment opportunities for Omani youth. Omanisation in the plant is planned to be increased to 50 per cent during the next five years.
The plant is an addition to the petrochemicals and aluminium sectors in Oman by attracting advance technologies and creating employment opportunities.
GCC demand for calcined petroleum coke stands at 1.5 million tonnes annually.