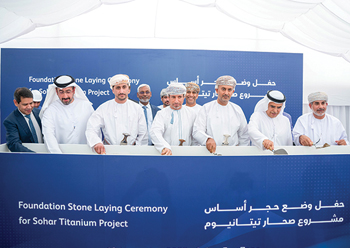 Officials laying the foundation stone
Sohar Titanium, a major subsidiary of Minerals Development Oman, laid the foundation stone for a major production plant in Sohar Freezone being set up at an investment of RO43 million ($111 million).
The facility, which will come up on a 120,000 sq m area, will boast a production capacity of 150,000 tonnes of titanium dioxide, said a statement from the company.
A ceremony was held at Sohar Freezone to mark the laying of the foundation stone of Sohar Titanium project under the patronage of Engineer Salim Nassir Al Awfi, Minister of Energy and Minerals.
A vital product, titanium dioxide is used in a range of industrial and consumer products, including paints, coatings, adhesives as well as ceramics, floor coverings, roofing materials.
The plant is expected to start commercial operation within the next three years, it added.
Sohar Titanium project is 35 per cent owned by Minerals Development Oman, while the remaining 65 per cent stake remains with Dubal Holding and Stork International through the Gulf Titanium.