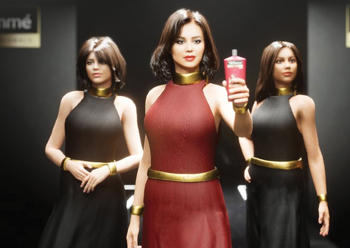 TRESemme teams with Exarta as it steps into the metaverse
Unilever Pakistan steps up its Web3 game with the help of Exarta, a UK-based top-32 metaverse building the leading portal for e-commerce and transactional technology on the internet of the future.
Forecast to grow at supersonic speed in the next 5 years, the metaverse market size is projected to go from $61.8 billion in 2022 to $426.9 billion by 2027. Conscious of the incredible potential at play, Unilever is trusting Exarta to help them establish a firm footing in the Web3 space and experiment with marketing strategies bridging between the virtual world and the physical one, starting with an exciting upcoming TRESEmmé Pakistan metaverse campaign.
After working tirelessly for 18 months on the development of their proprietary AI and machine-learning engine, Exarta, which has headquarters on the Isle of Man, offices in the UK and Asia, and is completing set-up in Dubai and in the US, is proud to join forces with a giant like Unilever and be able to offer a unique and innovative experience taking their Web3 adventures to the next level.
Offering high-definition graphics and huge incentives for users and merchants, Exarta aims to break down as many barriers to entry to the metaverse as possible and create a truly unique experience based on Unreal Engine. In the future of the internet as Exarta sees it, it should be as easy for people without any Web3 knowledge to seamlessly access their favourite stores in the metaverse as it is for them to shop at a physical mall, so that's what they are on a mission to build.
A global company, Unilever comprises over 400 household brands in 190 countries whose products are used by 3.4 billion people all over the world every single day. Unilever is enhancing people's lives with a purpose-led, future-fit business, and nowhere is this more true than in the metaverse: with the help of Exarta, they will continue to be pioneers and future-makers in the realm of Web3, just as they have been for over 120 years. In order to provide users with a safe, secure and private platform to work, buy and play in, Exarta is using Concordium Blockchain's uniquely designed protocol level ID layer to balance privacy and accountability both for social and commercial purposes.
"We are excited to launch this avatar-based premium styling experience. It will enable women to own their style and engage with a community of TRESsetters in real-time with just a few clicks," Humza Mahfooz and Zoha Akhtar, Brand team, TRESemmé, Unilever Pakistan.
"It's been amazing working with the TRESemmé team in creating this experience. Unilever have a global footprint in the FMCG market and to see such an organisation focused on delivering ground-breaking Web3 experiences for their consumers is refreshing, we look forward to working on many more projects with them," said Rashid Ali, CEO and Co-Founder of Exarta.