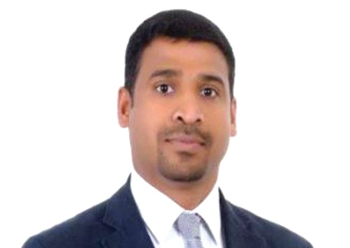 Shijas Mohidheen
Cybersecurity champions Hilal Computers are delivering infrastructure and a suite of software offerings to enhance the options available to businesses across the GCC .
The company boasts a dedicated managed Network Operation Centre (NOC) and Security Operation Centres (SOC) which they have established in association with partner company North Star Group in Bahrain and Saudi Arabia. The NOC and SOC recently received the highly prized SOC2 certification with the AICPA's (American Institute of Certified Public Accountants) TSC (Trust Services Criteria).
"We ensured that Hilal's managed NOC and SOC facility underwent the rigorous auditing process to ensure that we were maintaining the high standards that we have set in cybersecurity defence and protection. Our team of security analysts monitor thousands of security incidents each day. The award recognises the capability of our dedicated team of analysts," comments Shijas Mohidheen, Director Cyber Security for Hilal Computers.
In addition to the NOC and SOC, Hilal offers numerous security monitoring and protection software in collaboration with market leaders.
Hilal Computers are members CyberArk Partner Network to enhance their cyber footprint in the region. This offers organisations in the GCC, the CyberArk Identity Security Platform to secure human or machine identities across business applications, distributed workforces, hybrid cloud workloads and throughout the DevOps lifecycle.
Another of Hilal's bouquet of cyber software is Vectra, the leader in threat detection and response – from cloud and data center workloads to user and IoT devices. Its Cognito platform accelerates threat detection and investigation using Artificial Intelligence (AI) to enrich network metadata it collects and stores with the right context to detect, hunt and investigate known and unknown threats in real time.
Vectra AI recently awarded Hilal Computers and Hilal CTTC the accolade of Technical Partners of the Year in Bahrain and KSA, respectively.
"We are passionate about our status of defenders against cybersecurity violators. We understand that for many companies the Covid-19 pandemic exposed physical security and risk management gaps that senior business leaders are anxious about. We are happy to share our knowledge and expertise with a free consultation to any company looking to develop a strategy to plug the gaps in their defence from cyber-attacks and infiltration. Hilal together with North Star Group have developed a bouquet of services that provides international customers with cost effective SOC services and cyber security offerings of a global standard," adds Mohidheen.