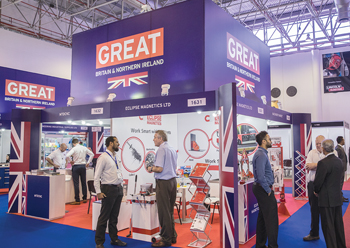 SteelFab 2022: set to anchor country's hi-tech drive
The 17th SteelFab 2022, which is scheduled to be held at Expo Centre Sharjah from January 10 to 13, will be in sharp focus since the new strategy, with its core focus on the manufacturing sector, aims to embrace innovations in 4IR technologies to place the UAE at the heart of the fourth industrial revolution.
Moreover, the lifting of travel curbs, recovery in tourism, rising oil production and higher oil prices coupled with a rebound in global trade will also go a long way in preparing the ground for the upcoming SteelFab 2022.
"We are witnessing a new era of technological innovations and 4IR technologies that fuse many of the incredible advances made since the middle of the last century from 3D printing to artificial intelligence and Internet of Things are key to the growth of the manufacturing industry in the country. With the advent of intelligent machines and smart factories, one of the sectors that is the most impacted is manufacturing, including precision metal fabrication," said H.E. Saif Mohammed Al Midfa, CEO, Expo Centre Sharjah.
Manufacturing has traditionally played an important role in the UAE's economy and the new programme aims to double the industrial sector's contribution to the country's GDP to Dhs 300 billion by 2031.
"SteelFab has always been seen as an enabler for the regional metal working, metal manufacturing and steel fabrication industry. Now, with the new strategy aiming to accelerate the digital capabilities of thousands of local manufacturers, it can play a bigger role in facilitating technology transfer and sharing of knowhow that could increase productivity and boost development of innovative products," Al Midfa said, adding that this could help the UAE emerge as a global industrial hub.
SteelFab is also set to gain from the Expo 2020 Dubai that is now under way. The six-month-long mega event is facilitating increased business and leisure travel to the UAE, thus helping SteelFab to benefit from the heightened industry attention and visitor turnout.
SteelFab 2022 will be a comprehensive showcase of technology and innovation for a wide range of industrial segments and sub-sectors of the manufacturing sector, and will cater to core sector industries like construction, infrastructure, oil & gas, ship building and pipelines, among others. A key attraction at SteelFab will be the live display of metal cutting, metal forming, welding robots and laser machines.
With the entire production value chains being upgraded for optimised processes, and regional fabricators on the lookout for new technology to maintain their competitiveness, SteelFab is seen as an attractive platform to launch new products and services. This time too major exhibitors like Simco, DMG, Narex, German Gulf, Trumpf, Lincoln Electric, Akyapak, Ficep, Faccin, Salvagnini, LVD, Durmazlar, Passtech among others, are planning to introduce several of their new products and technology at SteelFab.
Besides, for the first time, SteelFab will be organising a specialised conference catering to the steel fabrication industry in association with Construction Week, the Middle East's largest construction and contracting news portal. The two-day conference will feature a keynote speech and four panel discussions on the impact of the Covid-19 on demand and supply and the changing face of the structural steel fabrication market, and digitisation in steel fabrication.
SteelFab 2022 will feature special sections such as Welding & Cutting, Machine Tools, Pipe & Tube Machinery, Grinding & Cutting, Surface Preparation & Finishing, Tools & Ancillaries, besides the 6th Fasteners World Middle East, making it an important industry event for engineers, manufacturing personnel, professionals, decision makers and buyers from a wide spectrum of industrial segments.
The past edition of SteelFab hosted 300 exhibitors who displayed over 700 international brands from across the world at 26,000 sq m of exhibition space and attracted 6,500 trade visitors from 70 countries.