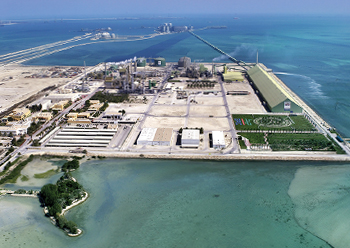 GPIC: record production
Safety, sustainability and operational excellence will be the focus of Bahrain-based Gulf Petrochemical Industries Company (GPIC) as it begins a new era under the leadership of Yasser A Rahim Alabbasi, who has taken over as the company's new President.
Alabbasi's selection follows the announcement of erstwhile President Dr Abdulrahman Jawahery's appointment as the Chief Executive Officer of the Bahrain petroleum Company (Bapco) on October 20, 2021.
"The Chairman and Board of Directors of the Gulf Petrochemicals Industries Company (GPIC) have named Yasser A Rahim Alabbasi as Dr Jawahery's successor to the position of President of GPIC," writes the GPIC chairman Dr Ahmed Al Sharyan in a foreword note in the company's latest newsletter named Khaleejiah.
Calling Dr Jawahery as an `outstanding leader', the GPIC Chairman, said: "There is no doubt that Dr Jawahery has left an indelible mark on GPIC, his highly successful tenure as President will go down in history, and for this, we are eternally grateful."
Dr Jawahery, who spent most of his professional working life at GPIC, was promoted within the company, moving between departments, until he was appointed President some 16 years ago.
"I congratulate Dr Jawahery. The confidence bestowed on him by the leadership of our beloved Kingdom to lead Bapco, is very well placed and I am confident he will capably achieve His Majesty's and the government's vision," Dr Al Sharyan added.
The GPIC Chairman and the board of director extended their thanks and appreciation to Dr Jawahery for all his efforts that have led GPIC to become a leading petrochemical company and agri-nutrient producer in the region.
They also congratulated Alabbasi on his appointment, adding that they are delighted he will be at the helm of GPIC and guide it through its next chapter of evolution. This includes the company's plans to implement new and exciting projects and expand its operation.
Welcoming Alabbasi in the new role, Dr Al Sharyan, said: "Alabbasi has 33 years of experience with GPIC in various key positions and is a very capable individual whom I am sure will sustain GPIC's culture and ensure the company continues on its path to excellence. I am confident that Yasser will flourish at the helm of GPIC and meet and exceed the requirements of all our shareholders locally, regionally and internationally. We wish Alabbasi all the very best in his new role."
An electrical engineer from the University of Bahrain and also a holder of MBA from Hull University, Alabbasi starting out as a trainee graduate electrical engineer in GPIC on October 1, 1988. After undergoing extensive training both in Bahrain as well as overseas, he held a number of senior positions in GPIC including Electrical Supervisor in the Maintenance Department, Training Superintendent in the Administration Department Safety and Security Superintendent and Safety, Health & Environment (SHE) Manager in the SHE department, Technical Service Manager, Plants Operations Manager and General Manager- manufacturing.
Alabbasi, is a member of the Supreme Council of Occupational Safety and Health of the Ministry of Labor and Social Affairs of the Kingdom of Bahrain, a Deputy Chairman of the Bahrain Health and Safety Society, and Board Secretary for the Bahrain Society of Engineers. He is also on the Board of Directors for Injaz Bahrain. Additionally, Alabbasi is also a member of a number of international professional and social societies including the National Safety Council, UK. Royal Society for the Prevention of Accidents (RoSPA) and others.
Commenting on his appointment, Alabbasi said he promised to regard this opportunity as a remarkable chance to help guide GPIC on its path of safety, sustainability and operational excellence.
Extending gratitude to the former president Dr Jawahery, he said that Dr Jawahery has been responsible for the great progress, development and distinction that the GPIC has achieved. The outstanding leadership of Dr Jawahery has made the company a recognised leader, not only within Bahrain but also at the regional level. Thanks to Dr Jawahery, GPIC is a highly respected organisation and has an active presence in various regional and global organisations.
Top records achieved
Meanwhile, GPIC has said it has achieved a record production in the first half of 2021 despite facing challenges posed by fluctuating global markets and tough economic conditions brought on by the Corona virus pandemic.
The company achieved a cumulative production of 402,559 metric tonnes of ammonia, urea and methanol in the first half of 2021 without any lost time accident, and exported a total of 311,927 metric tonnes of ammonia, urea and methanol, according to the latest figures revealed by the company on its website.
"Therefore, year to date, GPIC has exported a total of 601,768 metric tonnes of all its products, which were loaded to their final destinations on board 29 ships. China received the largest share at 19 per cent, followed by Thailand with 15 per cent," GPIC said.
Commenting on the record production achieved during the pandemic, GPIC newly appointed President Yasser A Rahim Alabbasi said that the company's ability to achieve excellence in such a highly competitive and volatile industry is because of the practical and flexible strategies and directives formulated by their chairman and board of directors.
"GPIC has achieved exceptional success despite the pandemic, with remarkable products produced by the company that are subject to international regulations for quality, environmental preservation, occupational health and safety along with responsible care.
"At the end of the second quarter, new records have been achieved in terms of operation and production. This was despite a set of challenges posed by fluctuating global markets and due to tough economic conditions brought on by the Corona virus pandemic," he added.
Dr Al Sharyan said that the company has continued to navigate the crisis in the same way since the start of the pandemic. "This has been with professionalism, focus and deliberate steps while exercising a level of flexibility in accordance with pandemic developments and guidelines issued by the National Medial Taskforce for Combating coronavirus. It was through this professionalism approach that the company was able to deal with the many impacts that Covid-19 has had on its operations," he wrote.
"As the world continues to weather the Coronavirus pandemic, there is a glimmer of hope as many people have been able to take advantage of the vaccines offered by different pharmaceutical companies. There is no doubt that the negative effects of this pandemic has touched all industries, including the energy and petrochemical sectors," he noted.