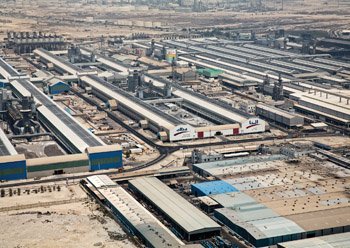 Bahrain's non-oil sector now accounts for 81.4 per cent of real GDP
Even while Bahrain has remained at the top of the economic diversification drive, the Covid-19 pandemic-induced disruptions have underscored the importance of developing a broader economic base to absorb the impacts of global crises.
Rightly then, Bahrain's industrial and manufacturing sector has been put on a new trajectory of growth as the newly launched Strategic Projects Plan catalyses over $30 billion of investments in strategic projects and creates new industrial investment areas across the Kingdom.
As per the policy initiatives announced so far, the manufacturing sector has been placed along with other crucial sectors like telecom, tourism, education and health in the plan that aims to support annual growth of 5 per cent in the non-oil sector by 2022.
MANUFACTURING RULES
In Bahrain's diversified $37 billion economy, it is the non-oil sector that now accounts for 81.4 per cent of real GDP, with manufacturing being the third largest contributor, accounting for 13.8 per cent of real GDP.
The financial corporations sector remains the largest non-oil sector accounting for 17.3 per cent of the total GDP, followed by the government services sector at 13.9 per cent.
Growth was broad-based across the non-oil economy which expanded by an annual 12.8 per cent in nominal terms than in Q2 2020 and 4.4 per cent higher than in Q1 2021. In real terms, the growth is 7.8 per cent YoY and 2.6 per cent QoQ. By contrast, the oil sector recorded a small 2.4 per cent real YoY decline, although it expanded by 98.3 per cent in nominal terms.
Big nominal gains in the manufacturing sector led to its expansion by 24.2 per cent YoY, although the growth in real terms was more modest at 2.3 per cent, reflecting the impact of higher aluminum prices. Production, on the other hand, was more stable in aggregate terms, with the country's national aluminium producer Aluminium Bahrain's (Alba) production growing by 3.5 per cent YoY, while production at the Bapco refinery decreased by 13.4 per cent.
ALUMINIUM DOMINATES
Aluminium production, the Kingdom's biggest industrial segment, continues to propel the manufacturing sector in Bahrain forward. Alba is on track to set new benchmarks by finishing 2021 strong following a record performance for the first nine months of the year, said Shaikh Daij bin Salman bin Daij Al Khalifa, the Chairman of Alba's Board of Directors.
Further, transitioning to the world's largest aluminium smelter ex-China since 2020 thanks to Line 6, Alba will be a catalyst in the development of the planned Aluminium Downstream Park that was announced within the Economic Recovery Plan.
The $3-billion Line 6 expansion project added 540,000 metric tonnes per annum (mtpa) to Alba's 1 million mtpa production, taking its nameplate capacity to more than 1.548 million mtpa (2020). With this landmark project, Alba has increased its metal supply to a thriving downstream sector, which will ultimately contribute towards Bahrain's socio-economic development.
Shaikh Daij emphasised that Alba – being one of the key pillars in Bahrain's economy – is fully committed to endorse the government's national initiatives, led by His Royal Highness Prince Salman bin Hamad Al Khalifa, Crown Prince and Prime Minister, including the national Economic Recovery Plan, which aims to create job opportunities for Bahrainis, enhance the contribution of non-oil sectors, as well as create direct and indirect investments for a circular economy for a better future for Bahrain.
The Chairman also expressed Alba's keenness to support putting in motion the Aluminium Downstream Park from blueprint to reality and serve the cluster of companies with Line 6 metal to further contribute to the Kingdom's GDP.
Shaikh Daij added: "Bahrain has the most established infrastructure for the local downstream sector in the region with the aluminium segment contributing around 12 per cent to Bahrain's GDP. The planned Aluminium Downstream Park, situated in the vicinity of Alba campus, will increase the contribution of non-oil sectors to the GDP of Bahrain and grow the exports of the Kingdom through the setting up of different aluminium manufacturing and recycling projects."
BAHRAIN-US TRADE ZONE
Even as businesses in Bahrain enjoy duty-free access to the rest of the GCC through a number of free trade agreements (FTAs), a regional hub for trade and production coming up in Bahrain is expected to further strengthen ties between the US and Bahrain.
A new trade zone will be established in Bahrain in collaboration with the US to serve as a regional centre for trade, production, logistics services and distribution. It will also help create quality job opportunities for citizens in sectors such as industry, commerce and supporting services, Mumtalakat Chief Executive Khalid Al Rumaihi announced recently.
The US-Bahrain Free Trade Agreement marked its 15th anniversary last year and the latest project is expected to further strengthen ties between the two countries.
LOGISTICS SPIN
In mid-October, Bahrain launched the "Bahrain Global Sea-Air Hub", the fastest regional multi-modal logistics hub in the region with only a two-hour turnaround time for all containers, which would reduce average lead times by 50 per cent compared to pure sea freight and reduce costs by 40 per cent compared to pure air freight for goods transiting from Bahrain International Airport to Khalifa bin Salman Port and vice versa. The launch of the hub is seen as an important milestone for one of the key non-oil sectors (logistics) that Bahrain is seeking to develop.
TRADE BALANCE
Oil accounts for around 60 per cent of Bahraini export receipts and for 70 per cent of government revenues. Other exports include aluminium, chemical products, transport equipment, electrical equipment and textiles. Bahrain's main exports partners are Saudi Arabia, the US, the UAE, India, Qatar, Australia and the Netherlands.
The total value of non-oil exports during Q2 of 2021 amounted to BD1.11 billion, registering an increase of 62.3 per cent compared to the same quarter of 2020. The value of national-origin exports increased by 74.8 per cent to reach BD0.94 billion. Base metals and articles of base metal accounted for nearly half of the exports of national origin, with an annual growth rate of 47.1 per cent.
For the month of October, Bahrain's national origin exports increased by 85 per cent amounting to BD366 million, compared with BD198 million in October 2020, shows the latest report from iGA.
Bahrain's exports are expected to reach BD9,000 million by the end of 2021, according to Trading Economics global macro models and analysts expectations. In the long-term, the Bahrain exports is projected to trend around BD9,500 million in 2022, according to its econometric models.
IMPORTS
On the other hand, the total value of non-oil merchandise imports in Q2 of 2021 amounted to BD1.25 billion, representing a growth of 6.9 per cent on an annual basis. Mineral products achieved the highest growth rate of total imports by 135.9 per cent.
The iGA report said value of imports increased by 24 per cent to BD452 million compared with BD378 million for October last year with the top 10 trading partners accounting for 73 per cent of the imports value.
Imports in Bahrain is expected to reach BD8,500 million by the end of 2021, according to Trading Economics global macro models and analysts expectations. In the long-term, the Bahrain imports is projected to trend around BD9,000 million in 2022, according to its econometric models.
Bahrain's main imports are fuel, electrical equipment, chemical products, transport equipment, metals and plastics. The Kingdom's main trading partners are Australia, Japan, Saudi Arabia, China, the US, the UAE, Germany and the UK.
FORECAST
Past decades have seen manufacturing's contribution to GDP rise from less than 1 per cent in 1980 to 9.6 per cent in 2018, and it may be well on track to reach the target contribution of 20 per cent of GDP by 2030 as laid out by Bahrain's Vision 2030 economic development plan.
According to Trading Economics, GDP from manufacturing in Bahrain averaged BD430.24 million from 2012 until 2021, reaching an all-time high of BD483.60 million in Q4 of 2019 and a record low of BD361 million in Q4 of 2012.
As per its forecast based on its econometric models, GDP from manufacturing in Bahrain in the long term is projected to trend around BD466.01 million in 2022 and BD477.66 million in 2023.