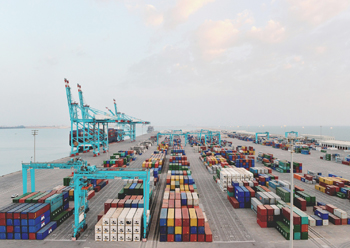 Khalifa bin Salman Port (KBSP): new targets
In a year marked by a radical shake-up of the global supply chain and market disruptions caused by Covid-19, Bahrain has launched an ambitious logistics strategy, which includes the fastest regional multi-modal logistics hub in the region.
This is all set to revitalise the shipping, ports and other critical parts of the logistics pipeline in the Kingdom.
Launched by the Transportation and Telecommunications Minister Kamal Ahmed, the new strategy aims to position Bahrain among the top 20 countries worldwide in terms of logistics and link the country to more than 70 destinations by direct flights, raising the sector's contribution to national GDP to 10 per cent by 2030.
The plan – which is based on updating laws, regulations and procedures as per global best practices and market needs; and developing infrastructure, including the sea port and airport – also aims to increase air freight capacity to one million metric tonnes and expanding the capacity of the Khalifa bin Salman Port (KBSP) to handle one million containers annually.
To support and drive the delivery of the new logistics strategy, at the helm is APM Terminals Bahrain, the operator of KBSP, the Kingdom's only general commercial port, which handles all containerised cargo to and from Bahrain in addition to general cargo.
"As Bahrain's only commercial port and over 90 per cent of consumer goods coming through the port, Khalifa Bin Salman Port is an invaluable part of Bahrain's national infrastructure and growth and a significant contributor to Bahrain's non-oil GDP. Therefore, APM Terminals has committed, as a partner and enabler to the Kingdom, to support and drive the delivery of the new logistics strategy," Maureen Bannerman, APM Terminals Bahrain Managing Director told Gulf Industry in an exclusive interview.
To catapult the sector – which saw subdued growth this year – to newer heights, Bannerman has set even higher targets for the company which connects Bahrain to the world through its highly efficient operations and modern infrastructure, empowering businesses to fulfil consumer needs.
"At KBSP, our mission is to become the most valued and largest contributor to the Bahraini economy. That is our vision and I have presented it to the board," Bannerman said, echoing the government's lofty logistics ambition.
The public listed company works together with the Ministry of Transportation and Telecommunications' Ports and Maritime Affairs (PMA), which supervises and regulates the port's functions in line with the concession agreement on various fronts.
In fact, the partnership between APM Terminals and the Ministry of Transportation and Telecommunications (MTT), working together to contribute towards Bahrain's 2030 Vision, is developing a solid and aligned plan aimed at expanding the capacity of KBSP, Bannerman said.
According to her, based on the intensive talks which were held between MTT, APMT and the logistics parties, APM Terminals will focus on:
• Offering tailored supply-chain solutions services to landside customers and a seamless supply chain for project cargo imports for various industrial projects;
• Introducing digital solutions such as online access control, e-payment solutions, vessel traffic management system, and pre booking;
• Initiatives launched by the Economic Development Board (EDB) to promote Bahrain as the regional e-commerce distribution hub which are also expected to result in an increased movement of goods and services across Bahrain; and
• Integrated supply-chain solution.
Significantly, the port is also looking at offering an all-inclusive range of products and services covering every link of the integrated supply chain – from maritime and inland terminals to marine services and industrial parks as well as technology-driven customer solutions.
"Focus will be towards developing a supply-chain hub by integrating Bahrain Logistics Zone (BLZ) and KBSP and providing supply chain solutions to customers. As part of that, a supply-chain value proposition is to be developed jointly with EDB, PMA encompassing KBSP and BLZ. This will be vital in successfully concluding the ongoing signature projects," revealed Bannerman.
The strategy will also focus on developing the port-to-airport connections and supporting and enabling a more seamless integrated logistics journey for its customers, thus encouraging more business to set up in Bahrain.
Meanwhile, Bannerman said that the port will continue to focus on attracting transshipment volumes despite immense competition in the region. APM Terminals team has relentlessly worked on attracting transshipment operations at KBSP in an alliance with the CMA CGM Group, a world leader in shipping and logistics. Those volumes underline KBSP's status as an attractive port for transshipment operations in the region and also ensure improved availability of Empty Containers for Bahrain Origin cargoes, a key differentiator in Ocean Logistics, she said.
"We are not at capacity, unlike many other regional ports, so being able to offer berth is a competitive advantage, with the upcoming differentiated services bouquet to expand our offers to make the port more attractive," Bannerman said.
GLOBAL SEA-AIR HUB
APM Terminals Bahrain has been a key driver in the PMA-monitored project of developing seamless Sea to Air (and vice-versa) Corridor in Bahrain. "APM Terminals has provided necessary inputs and in consultation with PMA, EDB, customs authorities, Bahrain Airport Company (BAC) and other stakeholders, has contributed significantly towards the roll-out of the Sea to Air Corridor," she revealed.
To start the ball rolling, a joint committee has been formed along with PMA and EDB to commence trial runs and operationalise the roll out for commercial activity, Bannerman said.
The Bahrain Global Sea-Air Hub relies on streamlined clearance procedures, optimised logistics, and full digitisation to achieve an end-to-end lead time of just under two hours for goods transiting from Bahrain International Airport (BIA) to KBSP, which means products can be with customers in half the time and at 40 per cent of the cost.
The year 2021 has been full of disruptions for the shipping industry – Covid-19, containers calamity, lower labour capacity and the Suez crisis, together created the perfect storm. Bahrain has borne the brunt, too.
"With the lack of containers and other disruptions, we have by no means been free of the impact from the issues of the global supply chain," Bannerman said.
According to her, exceptionally strong demand for containers and historically high freight levels on the Trans-Pacific and Trans-Atlantic shipping routes originating from China, have contributed to a significant drop in import of full containers being shipped to the region, including Bahrain. This, in turn, has resulted in a smaller number of empty containers being generated through the stripping of imports, while the repositioning of empties specifically for exports at an additional cost has turned out to be an unviable proposition for shipping lines.
To add to this, export of full containers out of Bahrain, comprising predominantly of heavy cargo such as metal and scrap, has faced challenges in securing capacity on main line services, which prefer lighter cargo for optimising capacity utilisation on their vessels. The relaxation of Covid-19 restrictions in the half-year (H2) 2021 have provided no respite whatsoever to the ongoing equipment shortage, thus resulting in overall subdued throughput as compared to internal targets, Bannerman added.
Consequently, the company's overall volumes for 2021 year-to-date (YTD) September have contracted by 14 per cent as against the same period in 2020.
Despite these headwinds, the highlight for KBSP for 2021 has been its ability to adapt to increasing demand for break-bulk handling on general cargo vessels through conversion of containerised volume, besides the introduction of new non-cargo related services.
"This combined with a favourable cargo mix and revenue from non-cargo related activities has resulted in a subdued negative impact on KBSP's overall performance when compared to the contraction in volumes as against the highs of 2020," Bannerman said.
"Last year (2020) was a good year for the company's results primarily due to upsides which accrued due to causeway closure," Bannerman reminisced. The port reported a revenue of BD43.2 million for the last financial year, reflecting YoY improvement of 13.2 per cent on both container and general cargo services.
According to her, the company actually benefited in the pandemic as the closure of the Saudi causeway led to a major diversion of cargo from road to sea. Despite the challenges in shipping and logistics, she said the company had continued to maintain a strong track record of revenue and profitability in 2021.
While revenue was lower in both container and general cargo, marine revenue increased by 24 per cent YoY due to higher private jetty calls. YTD profit for the period remains at a healthy level of BD6.2 million. The royalty rates saw an increase of 30 per cent in 2021 under the concession agreement. The impact was partly offset by significant cost savings and optimisation initiatives across the organisation.
Export laden volumes continued to be impacted by significant equipment and trade lane specific issues. The global equipment shortage is expected to continue well into 2022 resulting in continued impact on Beneficiary Cargo Owners.
RoRo volumes handled at KBSP have registered an increase of 8 per cent in 2021 v/s 2020 (YTD). This has been driven by improved sales due to easing of Covid restrictions. However, volumes have dropped starting from September 2021, as a result of the announced increase in VAT effective 2022, with vehicle dealers attempting to clear existing stocks.
All along, APM Terminals Bahrain continues to contribute to maritime education and training in the kingdom with its intense focus on fostering and developing local talent at the port.
In its latest initiative, it has focused on developing the kingdom's future Maritime and Logistics leaders, by launching a nationwide leadership employability drive to support Bahrain's economy and people's future. It is also focusing on training and creating roles, particularly for those employees who have been affected by the Covid-19 crisis.