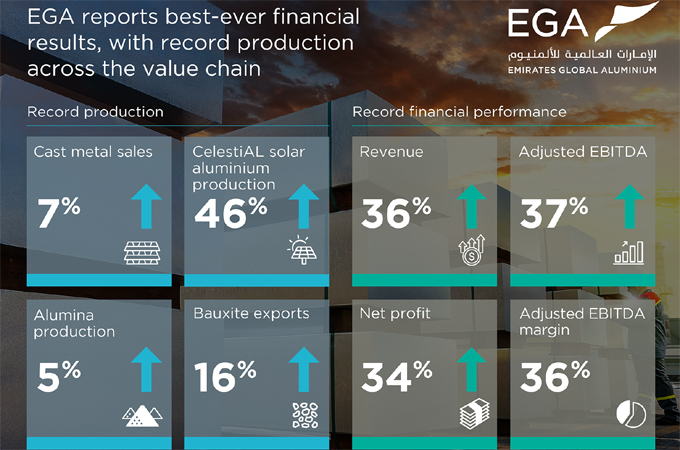 Emirates Global Aluminium (EGA), the world's largest 'premium aluminium' producer and the biggest industrial company in the UAE outside oil and gas, today reported its strongest-ever financial results.
The company reported a record revenue of AED34.6 billion ($9.4 billion) for 2022, up 36 per cent from AED25.5 billion ($6.9 billion) in 2021 and a record net profit of AED7.4 billion ($2 billion), up 34 per cent AED5.5 billion ($1.5 billion) in 2021.
EGA's adjusted earnings before interest, tax, depreciation and amortisation (adjusted EBITDA) for 2022 was up 37 per cent to a record AED12.4 billion ($3.4 billion), compared to AED9 billion ($2.5 billion) in 2021.
Abdulnasser Bin Kalban, Chief Executive Officer of EGA, said: "At EGA, we delivered our best-ever results by focusing throughout the year on what we control – the safety of our people, operational excellence, our costs, and our commercial relationships with our long-term global customers. Our performance demonstrated our resilience and strength at every step of the value chain.
"I am confident that EGA will deliver another competitive performance in 2023 compared to peers in the sector.
"The immediate outlook for aluminium remains under some pressure due to its close correlation to the health of the global economy. More broadly, the prospects for EGA and our sector are very strong due to aluminium's role in decarbonisation economy-wide. EGA will capitalise on this significant opportunity."
Bauxite exports from the Republic of Guinea were up 16 per cent to 14 million wet metric tonnes. EGA's bauxite mining subsidiary, Guinea Alumina Corporation, contributed AED507 million ($138 million) to adjusted EBITDA.
Other financial highlights of 2022
• Average realised LME price of $2,715 per tonne.
• Cash generated from operating activities of AED12.7 billion ($3.4 billion) up 70 per cent from AED7.5 billion ($2 billion) in 2021.
• Adjusted EBITDA margin of 36 per cent, compared to 35 per cent in 2021, one of the highest amongst industry peers.
• Continued deleveraging to strengthen EGA's balance sheet. EGA's net debt to adjusted EBITDA was 1.1x at year-end, compared to 2.4x at end 2021.
• Total dividends to EGA's shareholders of AED3.7 billion ($1 billion, consisting of an interim dividend of AED2.2 billion ($600 million) in July and a further dividend of AED1.5 billion ($400 million) after the end of 2022. This makes dividends related to 2022 the largest in EGA's history.
• EGA recognised an impairment loss of AED1.1 billion ($288 million) for mining assets and related equipment at Guinea Alumina Corporation, a prudent accounting measure reflecting the increased cost of capital and other market conditions in Guinea.
Operational highlights of 2022
• Total Recordable Injury Frequency Rate (a measure of all incidents including those not requiring time of work) of 1.42 per million hours worked, continuing a safety performance significantly better than industry benchmarks. There were three Lost Time Injuries in EGA in 2022.
• Record sales of cast metal of 2.72 million tonnes (2021: 2.54 million tonnes). 78 per cent of EGA's metal sales was value-added products.
• Sales to local UAE customers of 268,000 tonnes of cast metal (2021: 281,000 tonnes).
• Production of CelestiAL solar aluminium increased 46 per cent to 57,000 tonnes (2021: almost 39,000 tonnes).
• Record production of hot metal of 2.65 million tonnes (2021: 2.50 million tonnes. During 2022, EGA surpassed 40 million tonnes of hot metal produced since start-up in 1979).
• Record production of alumina of 2.43 million tonnes (2021: 2.3 million tonnes). EGA's Al Taweelah alumina refinery met 47 per cent of EGA's alumina needs in 2022. Al Taweelah alumina refinery made an AED 919 million ($250 million) contribution to EGA adjusted EBITDA.
• Record exports of bauxite from Guinea of 14 million wet metric tonnes (2021: 12 million wet metric tonnes). Guinea Alumina Corporation made an AED507 million ($138 million) contribution to EGA's adjusted EBITDA.
* EGA's working capital at the end of 2022 was 30 days, a significant improvement on previous years and one of the best in the industry.
* EGA's average realised London Metal Exchange price for its metal was $2,715 per tonne. The benchmark LME daily price reached a decade-high in March of $3,985 per tonne, before retreating to a low of $2,080 in September.
Zouhir Regragui, Chief Financial Officer of EGA said: "These results show EGA's industry-leading capability both to capitalise on market opportunity and to generate value from mining to metal during more challenging periods. This is testament to the success of our multi-year transformation programme that has so far delivered some $1.7 billion in additional EBITDA over three years.
"In addition, over the past four years, we have improved our working capital and have released close to $1 billion previously trapped in the business.
"Our record financial performance enabled us to further strengthen our balance sheet in preparation for future growth while providing excellent returns for our shareholders. We also took a prudent view with the recognition of the impairment of our asset in Guinea in light of the increasing cost of capital.
"We expect global demand for aluminium to grow by between one and two per cent in 2023, and much more over the decades ahead in the transition to a more sustainable economy. The bulk of new demand will be in secondary and low-carbon primary aluminium, for which there will be a premium. We are growing our business in both these areas." - TradeArabia News Service