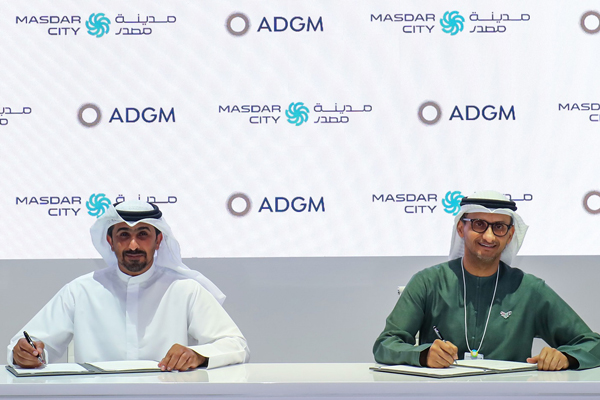 The agreement being signed
Masdar City and the Abu Dhabi Global Market (ADGM) have signed a strategic Memorandum of Understanding (MoU) to strengthen foreign investment (FIs) in Abu Dhabi and support innovation that enhances UAE's competitiveness.
The agreement was signed by Ahmed Baghoum, the acting CEO of Masdar City, and Hamad Sayah Al Mazrouei, the CEO of ADGM Registration Authority, during Abu Dhabi Sustainability Week 2023.
The two entities will exchange best practices, promote institutional integration, and explore opportunities to enhance Abu Dhabi's international position as a destination for direct foreign investment, innovation, and entrepreneurship.
Attracting new investors
Masdar City, Abu Dhabi's flagship sustainable urban community and innovation hub, and ADGM will work together to attract new investors to their free zones and benefit from each other's capabilities. They will also explore the possibility of providing office space to ADGM entities at Masdar City and enabling Masdar City companies to operate within ADGM's legal standards, which would subject them to English common law.
"This partnership demonstrates our shared interest in advancing Abu Dhabi as the preferred destination for foreign investors," said Baghoum. "As an innovation hub and one of the world's leading clean-tech clusters advancing solutions across the sustainability domain, Masdar City shares ADGM's ambition to attract innovative businesses to Abu Dhabi that will grow regionally and internationally."
With its efforts to expand the number of companies within its jurisdiction, ADGM's Registration Authority has been collaborating with established businesses in the UAE's capital city to support mutual strategic cooperation that helps achieve greater targets.
Areas of collaboration
Al Mazrouei said: "We will explore areas of collaboration, work toward developing Abu Dhabi's overall economy, and advance it as an innovative and progressive economic center. This partnership will further build the pillars of future innovative projects through the exchange of best practices to attract foreign direct investments and the enhancement of performance and competitiveness of both free zones.
"Developing international standards affecting registration and regulation, including anti-money laundering and counter-terrorist financing compliance, is at the forefront of our commitment to enhancing and accelerating the growth of the business community within the emirate of Abu Dhabi."
Home to over 1,000 companies, Masdar City offers 100% foreign ownership, zero import tariffs, cost-effective licensing, and a wide range of affordable office space. Incubating and scaling clean technologies and more sustainable processes has been the focus of Masdar City since its inception.
Clean-tech cluster
A low-carbon development made up of a rapidly growing clean-tech cluster, a business-free zone and a residential neighborhood, Masdar City's world-class free zone offers a strategic base to companies and investors seeking to grow their business in the region and internationally and trial new technologies.
Today's MoU marks the latest collaboration between ADGM and Masdar City. In 2019, Masdar City incorporated the Masdar Green Real Estate Investment Trust (REIT) in ADGM, the first REIT.-- TradeArabia News Service