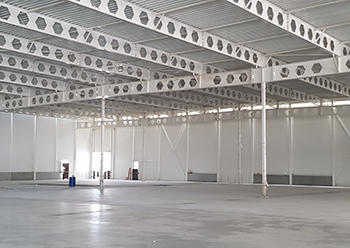 Al-Usaimi Steel Co has carried out a number of construction projects recently.
Othman Abdul Rahman Al-Usaimi Holding group, widely known as Al-Usaimi Steel Co, a veteran in Saudi Arabia's steel manufacturing sector, has expanded its capabilities by establishing a new general construction division.
The division leverages the latest engineering design software to undertake steel fabrication of all types and sizes and provides steel protection services.
The expansion aligns with Saudi Arabia's Vision 2030, which aims to diversify the economy and reduce reliance on oil.
Al-Usaimi has a long history of excellence, dating back to its founding half a century ago. The company has six technologically advanced factories in Dammam's Second Industrial City and offers a suite of services including trading, steel manufacturing, protection, and now construction.
Al-Usaimi's diverse product range includes corrugated sheets, hollow sections, bars, rebar, wire mesh, and more. The company sources its raw materials from globally renowned regions to ensure the highest quality standards.
"Our strength lies not just in product variety but also in our expansive network and impeccable service," said Ahmed Khalifa, Head of Procurement at Al-Usaimi Steel Co. "The synergistic functioning of our various divisions ensures an efficient value chain, leading to minimised waste and optimised production."
Al-Usaimi is committed to quality and adheres to rigorous testing procedures aligned with international standards. The company also regularly updates its quality assurance policies. The company caters to both the governmental and private sectors and has flexed its capabilities to serve the renewable energy sector, particularly in lightweight steelworks for solar panel platforms.
The company's recent projects – from data centres to solar projects and architectural beautifications – highlight its versatility. Al-Usaimi's innovative spirit is evident in projects such as the steel structure for car-parking systems in the Eastern Province and the timely completion of the challenging beautification of roundabouts, Khalifa pointed out.
With a progressive vision, Al-Usaimi is constantly innovating and expanding its production capacities. The company has plans for new factories, state-of-the-art production lines, and pioneering services, according to Khalifa.
Given its capabilities in the manufacturing and fabrication sectors and its reputation for excellence, the company said it is well-positioned to play a key role in Saudi Arabia's economic diversification and growth ambitions.