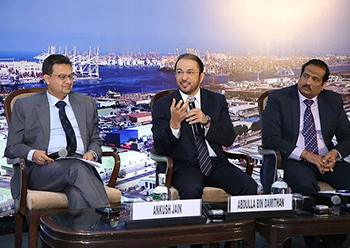 DP World's Jebel Ali Free Zone (Jafza), a leading trade and logistics hub in the Middle East, is in an overdrive to attract Indian businesses to the zone, and benefit from the Comprehensive Economic Partnership Agreement (CEPA) between India and the UAE.
Jafza supports the 'Make in India' Initiative and 'Production Linked Incentive' schemes to boost manufacturing, investments, and exports in India via its Jebel Ali hub, offering unmatched logistics and trade solutions and greater access to new markets.
Jafza currently serves over 9,500 companies from 130 countries, with the Jafza-India route handling 19% of non-oil trade between the UAE and India, making it India's largest supporting ecosystem for trade.
In the Free Zone alone, Indian companies are the second largest partners in tners in terms of trade volume and are fourth in terms of trade value.
Jafza is supporting the growth of India - UAE bilateral trade relations by outlining its efforts to drive towards the $100 billion goal for non-oil trade over the next five years.
Plans for growth were highlighted at a Confederation of Indian Industry (CII) event in Delhi, India, where Abdulla Bin Damithan, CEO & Managing Director, DP World UAE & Jafza, addressed an audience on why 'Dubai is India's Gateway to the World'.
Following the launch of CEPA, which came into force last year, the exclusive event outlined the major opportunities for Indian businesses in the UAE, which include lower or eliminated tariffs and an open and non-discriminatory environment for cross-border trade. As per IHS Markit, the bilateral trade between India and the UAE increased from $68 billion in 2021 to $84 Billion in 2022, registering a year-on-year growth of 23%. With its India-UAE Bridge initiative, Jafza aims to reduce time and cost of shipping goods between India and the UAE by providing a seamless and efficient logistics solution and creating new business opportunities for companies in both countries, particularly in sectors such as manufacturing, food and beverage, pharmaceuticals, and healthcare, etc. The initiative is a major step towards strengthening the economic ties between India and the UAE and promoting greater trade and investment between the two nations.
Damithan said: "We are delighted to collaborate with CII, which brings together industry leaders, experts and key stakeholders from both countries to discuss the latest developments, challenges and opportunities in trade between India and the UAE."
"The announcement of the Comprehensive Economic Partnership Agreement (CEPA) last year is already having tangible benefits for India – UAE trade relations. Tariffs have been eliminated on more than 10,000 products and services over the next 10 years, which will provide a major impact on trade between the countries and the wider Gulf region. Jebel Ali Port and Jafza have played a crucial role in boosting trade between the two countries, and we look forward to further contributing to the growth of trade between India and the UAE."
Speaking to business leaders from across India, Damithan highlighted Jafza's unique value proposition and how the Free Zone can play a catalytic role for Indian companies to expand operations into foreign markets and strengthen their global value chains.
As part of Dubai Traders Market, Bharat Bazaar, the Free Zone's mega-distribution centre with its showrooms and warehouses, will allow Indian traders to serve local and global customers from a single hybrid business platform for wholesale and retail via Jafza.
Jafza also links businesses to Jebel Ali Port's F&B Terminal, which spans over one million square meters and offers dedicated facilities such as cereal silos, covered warehouses, and refrigerated container storage yards that cater to the specific needs of the food and beverage industry. Together, the Port and Free Zone offer a comprehensive logistics solution that can help Indian companies thrive.

ELECTRONIC HUB
Meanwhile, Dubai is one of the key suppliers of electronic products to the Middle East, and the rest of the world. In 2021, 2.7 million metric tonnes (MT) of electronic products worth over AED 347 billion were traded via the emirate. Its trade capabilities are further complemented by the robust local and regional e-commerce fulfilment infrastructure and the re-export markets that connect to countries worldwide.
Jafza is crucial in enabling the UAE and the wider region to meet the ever-growing demand for electronics.
Set in the heart of Dubai, the free zone alone traded 1.4 million MT of electronic products worth over AED147 billion in 2021. That is more than 50 per cent of Dubai's total traded volume and over 40 per cent in value.
One of the key unique selling points of Jafza's electronics hub is that over 26% of the companies are from the UAE, fostering localisation and creating a global demand for local products and services. Regarding regional representation, 50% of the companies are from the Middle East. Another 26% are from Asia, and 9% are from Europe.

METAVERSE FUTURE
The emergence of the metaverse will transform and boost the ever-growing consumer electronics segment and trade in general by enabling the sale of virtual and physical goods and allowing customers to even walk into a virtual store with their digital avatars. Furthermore, as the metaverse expands and companies such as DP World explore the untapped potential of the virtual world, manufacturing and trade of electrical and electronic products that will enhance user experience are set to witness a boom.
In May, DP World announced the creation of DPMETAWORLD to bring cutting-edge virtual solutions for real-world supply chain challenges. Given the scale of the company's operations, spanning six continents, 80 ports and various logistics operations, customers will have the advantage of understanding the supply chain from end to end, creating alternate routes in case of logistics bottlenecks and accelerating the flow of goods.
The company will also explore metaverse applications for its services, including simulations of warehousing and terminal operations, in so-called digital twins -3D virtual versions of physical assets – as well as container and vessel inspections. Moreover, their customer-focused applications will include enhanced retail market access, potentially extending DP World's 1600+ showrooms at the Dubai Traders Market to an unlimited number of customers through an immersive shopping experience.