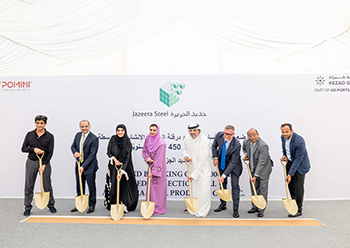 Groundbreaking Ceremony KEZAD Group Al Jazeera Steel Products
The Abu Dhabi Industrial Strategy (ADIS), launched in June 2022, has accelerated the transformation of the emirate's manufacturing sector, strengthening its position as the region's most competitive industrial hub within its first year.
ADIS, launched by His Highness Sheikh Khaled bin Mohamed bin Zayed Al Nahyan, Crown Prince of Abu Dhabi and Chairman of the Abu Dhabi Executive Council, aims to more than double the size of the manufacturing sector to AED172 billion, increase non-oil exports by 148% to AED178.8 billion, and create 13,600 jobs by 2031.
Led by the Abu Dhabi Department of Economic Development (ADDED), the strategy involves an investment of AED10 billion across six transformational programmes: Talent Development, Industry 4.0, Circular Economy, Ecosystem Enablement, Homegrown Supply Chain, and Value Chain Development.
Already, increased activity has been registered across all three stages of Abu Dhabi's manufacturer licensing journey: Rowad (initial licence to establish an industrial company), construction (to begin constructing an industrial facility) and production (to commence operations).
The 12-month period from July 2022 to June 2023 recorded a 16.6 per cent increase in the number of new industrial Rowad licences granted in Abu Dhabi, from 204 to 238. 116 new Rowad industrial licences were issued during H1 2023 alone, an increase of 63.3 per cent from the number issued in H1 2022.
AED15.36 billion in capital investments made by manufacturing facilities moved to the in-production phase over the year, a growth of 85.7 per cent from a year earlier. As a result, total capital investments by manufacturers operating in the emirate grew AED12.42 billion to AED384 billion in the same period, up from AED371.64 billion a year ago, official data revealed.
The number of operational manufacturers in the emirate now stands at 966, up from 922 manufacturers at the end of H1 2022.
Last year the industrial sector's contribution to Abu Dhabi's gross domestic product grew 9.7% year on year to AED90.8 billion ($24.72 billion), according to government statistics or 16.4% of its non-oil GDP and just over 8% of total GDP.
Abu Dhabi, which constitutes about half the UAE's industrial sector, wants to increase this to 172 billion dirhams by 2031.
"Oil is important to us in Abu Dhabi," Rashed Al Blooshi, undersecretary at Abu Dhabi's Department of Economic Development, was quoted by Reuters as saying. "But investing in non-oil sectors will have a bigger impact on the GDP ... and we will sustain the growth."
Since 2021, the UAE has also established a strategy of negotiating bilateral trade agreements with a key aim to boost non-oil exports to global markets.
In the first quarter, 27 new manufacturing operations got underway in Abu Dhabi, beating an internal target of 18, Blooshi said, adding the government wants 90 more in 2023 and another 100 by 2024.
ADDED is making concerted efforts to enhance Abu Dhabi's competitiveness through a new multi-polar economic strategy and the industrial strategy sits at its core.
Ahmed Jasim Al Zaabi, Chairman of Abu Dhabi Department of Economic Development (ADDED), said: "As an ambitious blueprint to guide the emirate's manufacturing sector, the Abu Dhabi Industrial Strategy has ushered in a new era in the economic landscape that leverages innovation and advanced technologies to harmonise human development, sustainability, and growth."
Al Zaabi added: "The robust performance of the manufacturing sector is testament to Abu Dhabi's ongoing economic resilience. Our manufacturing sector, which contributed 16.4 per cent to Abu Dhabi's non-oil GDP in 2022 and represents 49.9 per cent of the total industrial sector in the UAE, is moving from strength to strength, powered by successful implementation of the industrial strategy's transformational programmes to enhance the sector's competitiveness by increasing access to financing, enhancing ease of doing business, and attracting domestic and foreign direct investments."
Over the past year, the Industrial Development Bureau (IDB), ADDED's industrial sector development arm, has launched several initiatives to deliver on the goals of the strategy, including the Industrial Talent Programme, which is helping attract, develop, and upskill human capital in the industrial sector to meet the increased demand for knowledge-based jobs. IDB also launched 'Tech Champions', a pilot programme to equip employees of food manufacturing factories in Abu Dhabi with Industry 4.0 skills, which graduated its first cohort in May 2023.
During the year, IDB also unveiled a smart manufacturing competence centre to support sector-wide Industry 4.0 transition, an incentive programme to support existing industrial SMEs adopt smart manufacturing methods and processes, and a value chain development programme to further enhance the industrial investment ecosystem.
Additionally, ADDED signed agreements with a number of leading global companies to enhance industry innovation and digital transformation, and nurture emerging talent by training UAE Nationals through in-country, global and virtual programmes on technology, business and behavioural skills.
Kezad's huge strides
The Khalifa Economic Zones Abu Dhabi – Kezad Group, the integrated trade, logistics, and industrial hub of Abu Dhabi, has made significant strides in supporting the new industrial strategy, helping establish many new industries.
One of the major industries announced last December is the Dana Steel, the flagship manufacturing unit of industrial conglomerate Dana Group, for the establishment of its first hot and cold rolling steel complex in Abu Dhabi.
Under the terms of the agreement, Dana Steel will invest to develop a 50,000 sq m facility in Kezad. The new complex will facilitate backward integration of the company's continuous galvanising and continuous colour coating lines and will have 500,000 metric tonnes rolling capacity.
In July this year, Al Jazeera Steel Products Co held the groundbreaking ceremony of the region's first rolling mill with rail production capability at Kezad.
The groundbreaking marks the beginning of a new era of industrial development in the region. The establishment of the mill over an area of 210,000 sqm in Kezad aims to spearhead technological advancements, enhance steel manufacturing capabilities, and add to the growing demand for high-quality steel products.
Kezad also signed an agreement with its client Global Fluorine Chemical Factory (GFCF) for the establishment of its phase two in Kezad Mussafah, which will allow the company to triple its production capacity. In addition to the 100,000 sq m that GCFC currently occupies at Kezad Musaffah, the company will invest over AED1 billion in the new facility on an adjacent plot, that spans an additional 120,000 sq m. Four more chemical products will be added to GFCF's product mix with the opening of the second phase of the factory. The development advances UAE's goal of developing a circular economy as GFCF's phase two will now be able to get the raw ingredients for its premium refrigerants.