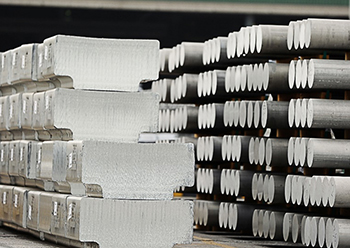 The global aluminum market, which was valued at $148.1 billion in 2021 is projected to reach $258.3 billion by 2031, growing at a CAGR of 5.82% from 2022 to 2031, according to a study.
Key factors driving the demand for aluminum are the implementation of strict greenhouse gas (GHG) and carbon emission requirements, increase in focus on the use of robust but lightweight aluminum alloys for the fabrication of vehicle durable components, and low hazardous emission, says the Aluminium Market Research by Allied Market Research.
However, for the past three months aluminium prices have been trading in a narrow $2100-2300/t range and around the $2100/t level since mid-July with a short lived dip below this due to global economic uncertainties. Price action has been muted this month with disappointing Chinese stimulus measures having little impact on market sentiment.
In January this year, Goldman Sachs Group forecast that prices for aluminium will move up, saying higher demand in Europe and China could lead to supply shortages. The metal will probably average $3,125 a tonne this year in London, analysts said. That's up from the then price of $2,595. However, the prices have not reached those levels this year.
"With visible global inventories standing at just 1.4 million tonnes, down 900,000 tonnes from a year ago and now the lowest since 2002, the return of an aggregate deficit will quickly trigger scarcity concerns," the analysts said. "Set against a far more benign macro environment, with fading US dollar headwinds and a slowing US Federal Reserve hiking cycle, we expect upside price momentum to build progressively into spring."
Aluminium reached record highs soon after Russia's invasion of Ukraine last February. It's since slumped as Europe's energy crisis and a slowing global economy led many smelters to curb production.
Aluminium prices rebounded with strength in 2021 amid the reopening of economies following Covid-19 lockdowns. Developments in China, which accounted for half of global aluminium production in 2020, dominated the price action for the industrial metal throughout the year.
By October 2021, aluminium had surged to 13-year highs as China's policy to "aim to have CO2 emissions peak before 2030 and achieve carbon neutrality before 2060" brought greenhouse gas-emitting smelters to a grinding halt.
Aluminium prices dropped nearly 50% from record highs to hit a 19-month low of $2,076 per tonne by 28 September 2022. However, it saw a rebound from its September lows as prices rose over 14% in the next two months and ended the year at $2,405.
The following the ending of China's zero-Covid policy in December, Chinese output of aluminium hit record levels. In January 2023, aluminium prices rose steadily, reaching a seven-month high of $2,638 on 25 January.
However, the price later corrected and by late March it shed most of its gains, reaching $2,266.50 on 21 March. This came as the US decided impose 200% tariffs on Russian metal starting on 10 March, effectively imposing a ban on Russian aluminium imports.
Aluminum is the sixth most ductile and second most malleable metal present on earth. It possesses strong affinity for oxygen. It is exceptionally light having 2.7g/cm density, is resistant to dust, possesses high degree of conductivity, and exhibits significant strength when alloyed. It is widely used in food & packaging and pharmaceutical industries, as it is nontoxic in nature, preserves food for a prolonged time, and inhibits growth of microorganisms.
The rapidly rising demand for this abundant base metal in China has been fuelling the expansion of the global aluminum sector. China's government owns the majority of its industries. Many of these businesses are expanding and changing quickly. Thus, it creates a requirement for more aluminum. Construction, packaging, transportation, and electrical are a few of the industries in China that heavily utilise aluminum. The largest portion of the total aluminum used by the Chinese industry each year is consumed by these four industries collectively. The government is making a lot of effort to increase industrialists' access to aluminum. Its results are expected to significantly contribute to the expansion of the global aluminum market.
However, a few things are preventing the global aluminum sector from expanding. One of these is the fact that mining and processing bauxite into aluminum is not environment-friendly. Many processors of aluminum are addressing this fact by making and selling secondary aluminum. This is expected to hinder the growth in the aluminum market in both short and long-term, the study said.
By end user industry, the transport segment accounted for around 32% of the global aluminum market share in 2021 owing to more people around the world driving motor vehicles; thus, growth in the global transport industry is also expected to drive growth in the global aluminum industry.
By processing method, the extrusion segment accounted for the highest market share of around 31.2% in 2021 and expected to show significant growth rate over the forecast period. Aluminum extrusion products are increasingly used in automobile radiators & air conditioners, condenser tubes, nuclear reactors, audio/visual systems & electronics, and others.
By region, Asia-Pacific is projected to be the fastest growing market, owing to factors such as rapid and vast industrialization, rapid and vast urbanisation, increased investment and activity in the construction of buildings and infrastructure, and expansion in the automotive industry.